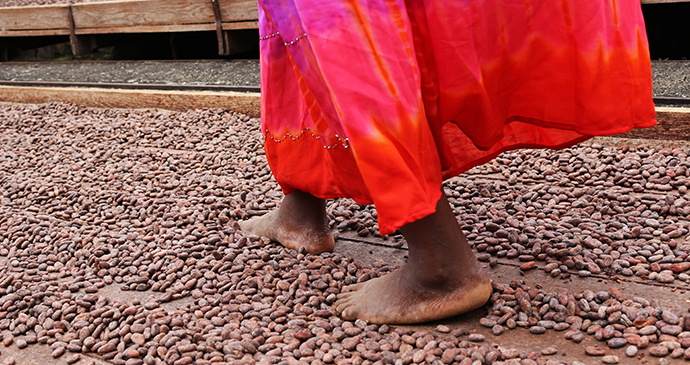 Estate workers walk through trays of cocoa beans with their bare feet in a process known as 'walking the beans' © Qin Xie, Shutterstock
Follow the cocoa journey from tree to bar, enjoy lunch and indulge yourself with some of the best organic chocolate in the world.
Belmont is a historic estate that dates back to the late 1600s when the first French settlers arrived on the island. The estate was a large coffee and sugar producer before changing over to nutmegs and cocoa in the 1800s. Described as an 'agri-tourism product', the 400-acre Belmont Estate successfully fuses agriculture, history, chocolate-making, and culture to produce a business and heritage site that should be on every visitor's agenda. Don't miss it. In addition to tours of the cocoa harvesting, sweating, and drying process, there is a picturesque tropical garden, a plant nursery, a gift shop, an organic farm, animals (including morocoy, mona monkeys and macaws), an organic goat dairy, café and a restaurant that serves excellent local cuisine. There are also occasional cultural events such as 'dancing the cocoa' and drumming. 'Dancing the cocoa' is an interesting spectacle where two estate workers, a man and a woman, dance together in a large copper pot of cocoa beans. After cocoa has been dried, the beans sometimes have a white residue on them – a natural result of the fermentation process, but one that makes them less visually appealing to discerning international customers. Before the advent of special polishing machines, dried cocoa was placed in large copper pots and a couple would 'dance' on them to the beat of a drum. The outcome is a couple of exhausted dancers and some very shiny cocoa.
It is indeed the cocoa and the chocolate that really capture the eye, the nose, and the imagination at Belmont Estate. Now entirely organic, the estate grows and supplies cocoa to its own chocolate factory.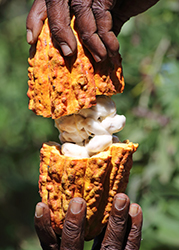 Belmont Estate's other attractions include a goat dairy and farm. Over 100 thoroughbred goats roam the estate's upper paddock and their milk is used to produce a delicious, light organic cheese. Other animals cared for here, and frequently visited by local schoolchildren, include tortoises (known locally as morocoy), mona monkeys, donkeys and macaws (a conversation or sing-song with 'Rainbow' is an entertaining experience).
End your cocoa and chocolate experience at the large, open-sided Belmont Estate restaurant where great food is served from coal pots. You can also purchase other delicious Belmont Estate-branded products such as jams, jellies and chutneys.
(Native to the Amazon region, the cacao tree is believed to have been introduced to Grenada in the 17th century © CKP1001, Shutterstock)