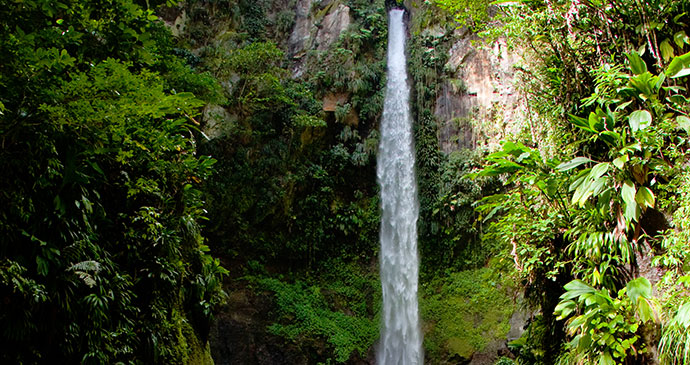 © Paul Crask
Try this hike cross-river to this stunning waterfall.
This is a very impressive waterfall located on the Sari Sari River behind the east-coast village of La Plaine. The hike to the waterfall is fairly challenging as half of it is in the river itself. You have to negotiate rocks, boulders, cascades and pools. Though it is not especially far, the terrain is difficult, making this a hike for the adventurous. Please do not attempt this hike when it is raining or if there has been recent heavy rain. The Sari Sari River is prone to flash flooding in these
conditions and people have died here.
It is worth noting that due to landslides on the south coast caused by Tropical Storm Erika, La Plaine, is currently only accessible via the east coast and not from the south.
When you reach the river, the easy part of this hike is over. Now you have to make your way upstream along the river bed. Look ahead for cairns (piles of stones) or other similar markings that helpful hikers may have left to show you where to go next. It is challenging, but fun and not too difficult.
Currently, there are no pools directly beneath the waterfall; it has silted up and is full of rocks following Tropical Storm Erika, but the pools before it were deep and refreshing.