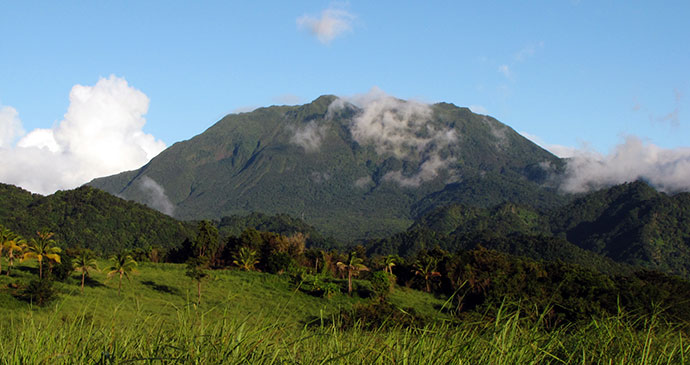 A view of Morne Trois Pitons from below © Paul Crask
Follow the trail to the first summit of Morne Trois Pitons to enjoy spectacular views of the west, north and east.
The Morne Trois Pitons National Park was established in 1975, and in 1997 it was designated a UNESCO World Heritage Site. It is approximately 7,000ha in size and contains a high concentration of volcanoes. The park's vegetation zones include deciduous and semi-deciduous forest, secondary and mature rainforest, montane forest, and elfin woodland at the volcano summits. Volcanic activity can be seen within the park. The Valley of Desolation, one of the island's active volcanoes, is a fascinating landscape of violently steaming fumaroles, hot-water rivers and cascades, boiling mud and a thin crust of rocks and boulders that have been stained in multi-colours by the chemicals and the gases that are released from the magma chamber below.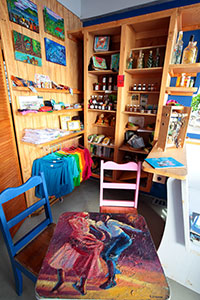 Of the volcanoes within the park boundary it is the dominant three-peaked Morne Trois Pitons itself, at 1,342m that is the highest. From the summit there are spectacular views of lush and dense rainforest all around. To the south are the peaks of Morne Micotrin, Morne Watt and Morne Anglais. To the north is a vast blanket of green covering the area from the Central and Northern Forest Reserves to the distant summit of Morne Diablotin and the Morne Diablotin National Park.
Romance Cafe at Mero Beach is a great option for a cool down after hiking Morne Tros Pitons © Paul Crask