One of the shorter hikes, which takes visitors through dense rainforest vegetation to one of the tallest waterfalls on the island.
When plans were being developed to create the Morne Trois Pitons National Park in the 1970s the then owner of the Middleham Estate, Mr John Archbold, an American millionaire, donated the land in its entirety to the World Wildlife Fund in an effort to encourage the formation of the park.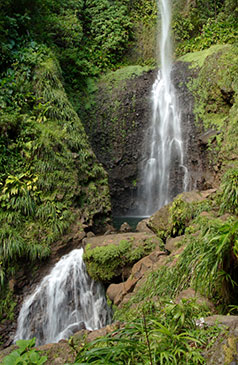 The estate covered in excess of 400ha and was transferred to the government of Dominica when the national park was created in 1975. The rainforest vegetation in this area includes fine specimens of the buttress-rooted chatanier tree, gommiers, tree ferns, epiphytes and bromeliads. Jaco parrots, one of two endemic Amazonians, also inhabit this region and are frequently heard if not actually sighted.
The main trail to the waterfall actually runs all the way between the villages of Cochrane and Laudat. The most common route used by visitors is the trail from Laudat which is fairly easy and takes around an hour. This route is also part of the Wai'tukubuli National Trail. The trail from Cochrane is less frequently used though it is a little less steep and passes through very undisturbed areas of rainforest.
This route takes a little over an hour and runs past Tou Santi or 'Stinky Hole', a fissure full of bats and the stench of their droppings. Both routes require small river and stream crossings (the route from Cochrane more so) and they converge at a junction just above the waterfall. The last section of the trail to the falls is a little steeper, rocky and sometimes quite waterlogged so you have to be careful. The waterfall itself is one of the tallest on the island.
The pool at the bottom is deep and well worth the scramble down for a refreshing dip. This waterfall changes quite noticeably between seasons. When it is dry, the falls are very narrow and the pool extremely tranquil. In the height of the wet season the waterfall is full and thunderous, throwing out vast clouds of spray and making access to the pool almost impossible.