The serenity of the Freshwater Lake and the natural beauty of the environment all around are breath-taking and most certainly worth a visit.
The Freshwater Lake is located in a valley between Morne Micotrin and Morne Nicholls, and from the heights of its perimeter trail you can also see Morne Trois Pitons, Morne Watt, Morne John and Morne Anglais. It has a surface area of approximately 4ha and is at an elevation of 762m above sea level. This area receives some of Dominica's highest rainfall, almost 900cm a year, making it just about the wettest place on the island. It is often cloaked in cloud and can be subject to strong easterly winds. Sometimes it feels more like Scotland than the Caribbean.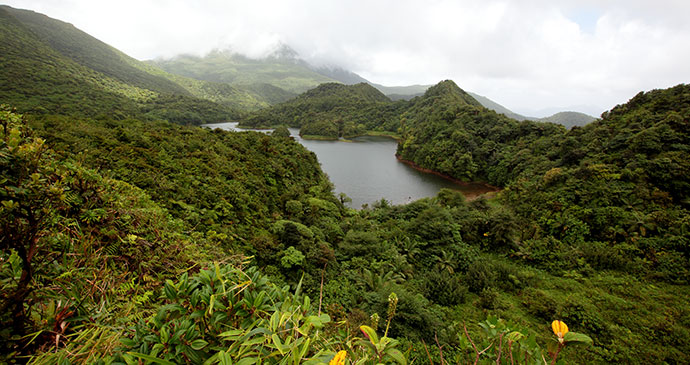 Due to the weather it receives and its location, the area around the lake is a combination of upper montane and cloudforest. The vegetation is fairly low-growing, consisting of ferns, mosses, kaklen (Clusia mangle) and mountain palms. Bromeliads, colourful gingers, heliconias and orchids can also be found growing around the lake trail. Aside from a mythical monster, living in the lake are tilapia, a tropical freshwater fish species belonging to the cichlid family that were introduced some time ago.
Although not blessed with an abundance of clear and sunny days (though when they do come, this place is stunning), the serenity of the Freshwater Lake and the natural beauty of the volcanic peaks and unspoilt environment all around are breathtaking. As they are located so close to each other, it is also a nice idea to combine a hike around the Freshwater Lake with the Boeri Lake, if you have the time and energy.
The Freshwater Lake is located beyond the village of Laudat, and within the Morne Trois Pitons National Park. Please note, public buses will not go beyond Laudat to the lake. You must either pay extra if the driver agrees to go the extra distance, take a taxi, hitch a ride, or walk. The walk from the junction to the lake is about 30–45 minutes along a paved road. It has great views on a clear day though so it's not that bad! At the visitor centre you can get drinks and good food. You can also rent kayaks.