Fort Shirley Garrison and the surrounding wetland provide multiple trails around the park with excellent views of the area.
The 525ha Cabrits National Park was established in 1986. The twin peaks of the Cabrits are thought to have been formed from the same volcano that collapsed and eroded over time. East Cabrit is 140m above sea level and West Cabrit stands at a height of 171m. Located within the park, and its most prominent feature, is the ruined 18th-century Fort Shirley garrison.
The park is connected to the mainland by Dominica's largest wetland, the Cabrits Swamp, and it also includes some 421ha of marine environment. The name 'Cabrits' is derived from the French word cabri, meaning 'young goat'. It is said goats were brought here for food and allowed to roam freely around the headland.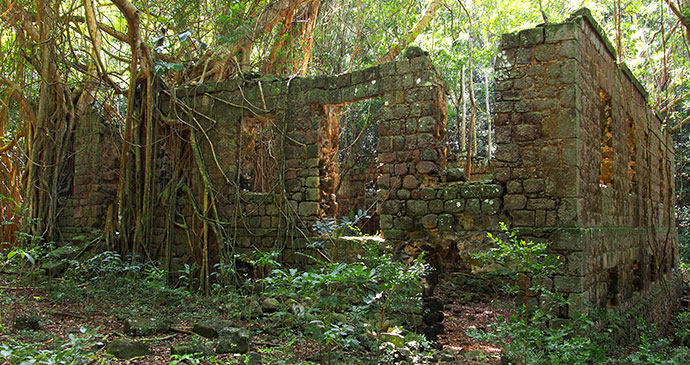 In 1990 the government of Dominica established a cruise ship berth at the Cabrits on the site of the dockyard that would have served Fort Shirley garrison some 200 years before, and it has become the location for two large hotel projects. At the time of writing one of these projects had started and then stopped, the other was simply making the news headlines. Whether either or both are likely to become significant accommodation options or not, only time will tell.
A site pass is required for the Cabrits National Park, which can be purchased at the snackette. The stone archway and path in front of the visitor centre forms the entrance to the park and leads uphill to the restored main garrison and the woodland trails. The trails are very pleasant walks through the forested park and include several interesting garrison ruins. They also have excellent views of the surrounding area.
The Cabrits habitat is dry coastal woodland. Trees found here include teak (Tectona grandis), the silk cotton tree (Ceiba occidentalis), the bay tree (Pimenta racemosa), the naked indian tree (Bursera simaruba), the mahogany (Swietenia mahogani) and the savonnet (Lauchocarpus latifolus). In the grassy area above the Fort Shirley powder magazine you can see Dominica's national flower, the bwa kwaib (Sabinea carinalis).