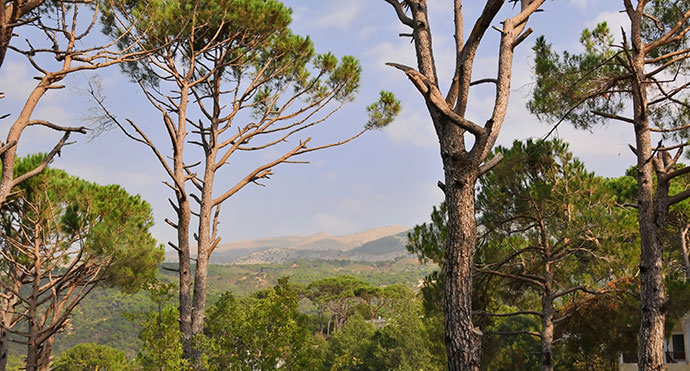 The Chouf Mountains are one of the most scenic parts of Lebanon © Serge Melki, Wikimedia Commons
Although only an hour or so away from the capital, the Chouf Mountains maintain a distinct geographical, cultural and ethnic identity quite unlike any other in the country. Its lush green vegetation, undulating terrain and cultivated fields of apples, grapes and olives is dotted with numerous picturesque towns and villages, making the Chouf one of the most scenic places in Lebanon. This is also the heartland of both the Maronite Christian and Druze communities; breakaway religious groups who have long made the area their home, fleeing persecution and sectarian rivalry. They have held steadfast to their traditions and it is here, especially in the towns of Baakline and Moukhtara, that you will see the eccentric moustaches, white skullcaps and baggy sherwal trousers worn by Druze men, and the white veil worn by women.
Visitors to the area will be most struck by the well-preserved Ottoman-era architecture in the peaceful town of Deir al-Qamar with many examples from the reign of Fakhreddine Maan II, whilst the opulent Beiteddine Palace, the legacy of the emir Bashir Shihab II, also houses a remarkable collection of Byzantine-era mosaics. For outdoor and nature lovers, too, the Chouf makes a welcome respite from the hustle and bustle of Beirut and in addition to its many hiking and trekking possibilities is home to the Chouf Cedar Reserve, Lebanon's largest nature reserve containing a quarter of the country's cedar trees, as well as a wide range of other flora and fauna.