In a country of such profound historical importance, passionate religions, political struggles and strict traditions, Tel Aviv stands out and knows it.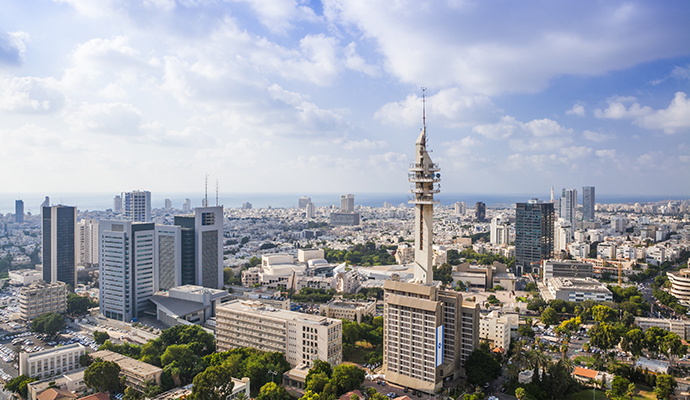 Israel's fun-loving beachside city sets itself apart with its striking modern architecture, eclectic restaurants and buzzing nightlife © Dmitry Pistrov, Shutterstock
Tel Aviv is the black sheep of the family. Where Jerusalem is proud of its biblical history, architectural beauty and devout religiousness, Tel Aviv's pride is found in the opposites. This colourfully loud and flamboyant city has an almost hedonistic atmosphere, where the main concerns are what to wear, where to be seen and where to party. Tel Aviv, whose name translates as 'Hill of Sprint' or 'Spring Mound', is the economic, financial and commercial heart of Israel. A recent boom in international business has seen the city flourish, with a big international airport, seafront overlooked by large five-star hotels, a highly profitable diamond exchange and the emergence of modern high-rise buildings standing as testament to this. While few would describe Tel Aviv as beautiful, a closer look will reveal the world's largest collection of Bauhaus buildings, a pre-Nazi German architectural style, granting it UNESCO World Heritage status in 2004.
In a country steeped in centuries-old history, Tel Aviv has managed to make its mark on the country in just six decades. Today, it epitomises the average Israeli. The fast-paced, hard-working and fun-loving way of life has drawn people from all over the country and abroad to make money and have plenty of fun spending it. While it may be easy for visitors to overlook Tel Aviv, using it as a gateway to the more traditional sights in Jerusalem, the Dead Sea and Galilee, a trip to Israel would most certainly be a biased one without a stop in this, the most Israeli of Israel's cities.