Through all of its countless names and spellings, there is but one name that stands out as the perfect fit: 'The Mystical City'.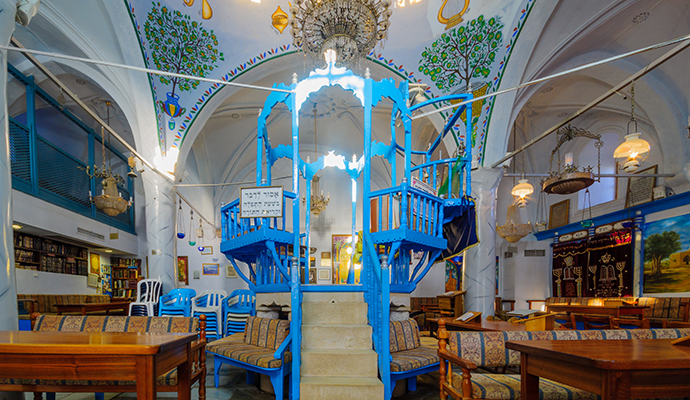 Inside Safed's Abuhav Synagogue, the world centre of Kabbalah, where you'll find a Torah scroll that is the source of many traditions and legends © RnDmS, Shutterstock
Perched high on the green, wooded slopes of the Upper Galilee mountains, Safed's clean, fresh air seems to whisper the secrets of the past, where Jewish mysticism abounds and whose spirit is still so clearly present. Cobbled stone alleyways, small cottages dotted with blue doors and windows and an abundance of ancient synagogues form the Old City, where today artists show off their talents in open studios.
Safed is regarded as one of Judaism's four Holy Cities (along with Jerusalem, Tiberias and Hebron) and was home to some of the religion's true greats. Scholars, spiritual leaders and religious philosophers gathered in the 16th century and together they gave Safed its proud status as a world centre for Jewish mysticism, Kabbalah. Today, they rest atop the mountain in the ancient cemetery, whose views befit their status as the 'righteous ones'. With the swift rise in Kabbalah's popularity across the world, the quiet little town of Safed has suddenly found itself the centre of a budding spiritual tourism industry. Followers flock to study in the multitudinous centres of learning, where the substantial Hassidic Orthodox presence lends an air of antiquity, as though time has stood still. But somehow Safed's charm and sacred atmosphere have not been weakened (within the Old City at least), and it is an alluring and enchanting place to explore.