The archaeological site of Masada represents Israeli patriotism at its proudest.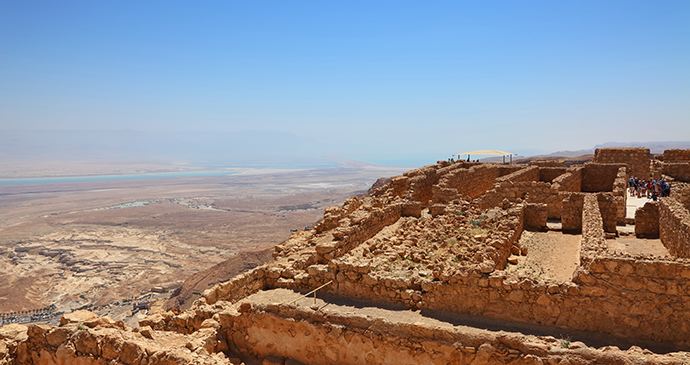 Perched 400m above the Dead Sea, the UNESCO-listed Masada archaeological site is a reminder of the Jewish resistance against Roman rule © Protasov AN, Shutterstock
Upon the protruding rock that towers some 400m above the western shore of the Dead Sea, IDF soldiers come to swear allegiance, repeating the mantra 'Masada shall not fall again'. For it was here, on the precipitous rock shelf, that the ancient fortress built by Herod the Great in the 1st century BCE became the 20th-century symbol of Jewish heroism. The fortress was captured by the Zealots, a Jewish sect, in 66CE in their revolt against Rome and became the last standing Jewish stronghold. After a long siege, the Romans finally stormed the fortress in 73CE, only to find that all 960 Zealots had committed suicide rather than surrender to their forces.
Today, it is one of the most important stops on the Jewish pilgrimage route and in 2001 was awarded UNESCO World Heritage status. A museum complex opened in 2007 displays some of the most impressive artefacts excavated from the ruins as well as depicting the life, times and history of this fascinating site.