Attempts are being made to promote Erbil as a major tourist attraction and Kurdish cultural centre.
Erbil (known in Kurdish as Hewler, seat of the Gods) and today the home of one million people is one of the fastest growing cities in Iraq and the Middle East. The seat of government and power in Kurdistan, it is modernising and developing as a regional capital. The city has transformed itself since 2009 and sets an example to the rest of Iraq with its cleanliness and modernity. New apartments, new shopping centres, stores and hotels continue to spring up. Ein Kawa, a Christian suburb of the city, is the place for restaurants, entertainment and an amusement park. Among the recent additions is a mosque: a replica of the blue mosque in Istanbul.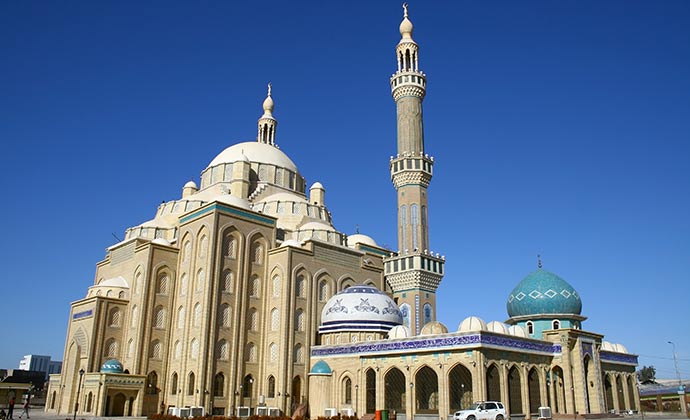 Erbil's Jalil Khayat Mosque © Sadik Gulec, Shutterstock
As always, there is a price to pay. The cost of living is very high – rents, fuel supplies and so on, and there are ever-increasing traffic jams. Not everyone is keen to preserve Kurdish heritage, which is threatened by the new wave of modernisation. The amazing covered market selling everything from fabrics and jewellery to cheese made from sheep's milk was described as 'full of rubbish' by Nizar Hana, who is convinced stall-holders should move into his giant mall. The freedom of movement in the city is, at first, a tonic after the wearying security restrictions which prevail in the rest of Iraq. But travellers have to decide for themselves whether the attraction of a large, modern city is what they are looking for in Kurdistan.
Since the 1970s, the city has been the home of the Kurdish parliament. The first parliament of the Kurdish Autonomous Region was set up by Saddam and housed in an impressive building. It was, however, under the control of the central government. After the uprising at the end of the 1991 Gulf War, the Kurds held elections and set up a parliament, which functioned until 1996, when fighting broke out between the KDP and the PUK. The PUK set up an alternative government in Suleimaniyah. The parliament reconvened again in Erbil after a peace agreement was signed in 1997. The KRG was officially recognised in the 2005 constitution and the KDP and PUK set up a unitary government in May 2006. Since the overthrow of Saddam there has been little violence in Erbil.
Attempts are being made to promote Erbil as a major tourist attraction and Kurdish cultural centre. The ancient citadel, recognised as an historic site by UNESCO, is being renovated and, for the first time in its history, is uninhabited. Three large houses from the 19th century have been turned into museums, with displays from the Sumerian to the Abbasid period, handicrafts and an art gallery.