Eating and drinking
The Kurds are fanatical about fresh food. To share food together is one of the best and most enjoyable ways for people of two cultures to cross boundaries and to establish a friendship. The land of the Kurds, in the northern part of the Fertile Crescent, (the region in the Middle East where the civilisations of the Middle East began) offers abundant resources for wonderful cooking. Wheat grows on the sunny plains, as do apricot, peach and plum trees. Apples, walnuts, cherries, almonds and pears offer bounty in baskets. Pomegranates, figs and grapes of all varieties delight any guest who is fortunate enough to visit Kurdistan in late summer. Large flocks of sheep and goats, fattened on the tastiest grass of the mountain pastures, are raised for meat as well as for their milk, which is transformed by skilled Kurdish housewives into creamy cheese, white butter and chilled buttermilk. Grape syrup and honey-sweetened bowls of thick yogurt, are delicious, while wild herbs and mushrooms add their delicate flavours to grilled wild partridge and quail.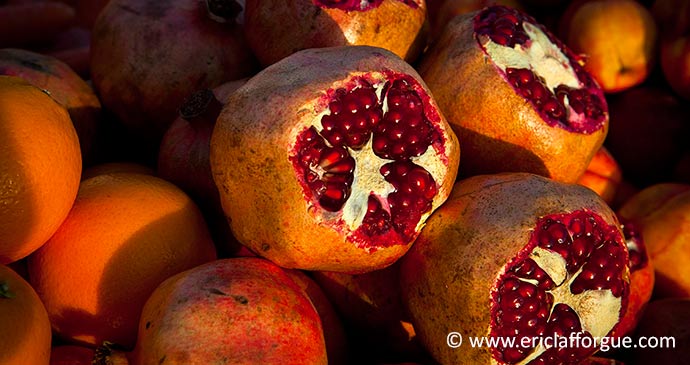 Pomegranates are a staple in Kurdistan cuisine © Eric Lafforgue
Kurdish cuisine, which has been influenced by Turkish and Iranian dishes, is rich and varied. Before urbanisation, a cooked breakfast and dinner were the main meals as people worked in the fields and did not return home for lunch. Today lunch is the main meal, eaten after 14.00 when offices have shut for the day. Meat, lamb or chicken, in the form of kebabs, are nearly always served during the midday and evening meals. Legendary Arab hospitality is also a Kurdish characteristic and foreigners are oft en invited to stay with families. During the mass exodus of Kurds to the Turkish and Iranian borders after the failed uprising of 1991 the starving refugees were worried about not having any tea to share with personnel from international aid agencies.
Accommodation
Accommodation is generally expensive in Kurdistan in comparison with equivalent accommodation in Europe and the US, and mid-range and even top-end equivalent accommodation in Europe and the US, and mid-range and even top-end prices can be paid for what would be classed as budget accommodation in other countries. At the top end of the market, Erbil has luxury hotels with good restaurants, fitness suites and swimming pools, and all the usual facilities you would expect. These hotels are usually frequented by business people and well-heeled ex-pats and can cost up to US$300 per night. Mid-range hotels are a mixed bag, with some charging high prices (US$200+) for the most basic of facilities and amenities. However, there are some which buck the trend, such as Monaco Palace and the Chwar Chra hotels in Erbil. Kurdistan's budget-priced accommodation is generally of a very poor standard and not recommended. Backpacker hotels can be found in all cities, but very few advertise internationally on the web or have reliable phone lines. A greater selection of reasonably priced hotels can, however, be found in smaller towns such as Zakhu.