Erbil (known in Kurdish as Hewler, seat of the Gods) and today the home of one million people is one of the fastest growing cities in Iraq and the Middle East. The seat of government and power in Kurdistan, it is modernising and developing as a regional capital. The city has transformed itself and sets an example to the rest of Iraq with its cleanliness and modernity.
Ankawa, a Christian suburb of Erbil, is a vibrant area of restaurants, cafés and bars and the amazing Qyesariyeh Bazaar, selling everything from fabrics and jewellery to cheese made from sheep's milk, is one of the few remaining historical areas one must absolutely visit. The ancient citadel, recognised as a historic site by UNESCO, is being renovated and, for the first time in its history, is uninhabited.
The freedom of movement and the nonchalant Dubai-ish atmosphere in the more modern parts of the city is, at first, a tonic after the wearying security restrictions which prevail in the rest of Iraq. But travellers have to decide for themselves whether the attraction of a large, modern city is what they are looking for in Kurdistan.
What to see and do
The citadel of Erbil
Located in the centre of the old city, this vast citadel covers an area of 102,000m2. It is a round construction built upon a 26m-high tel, a historic mound of many layers of historical settlements dating from ancient times.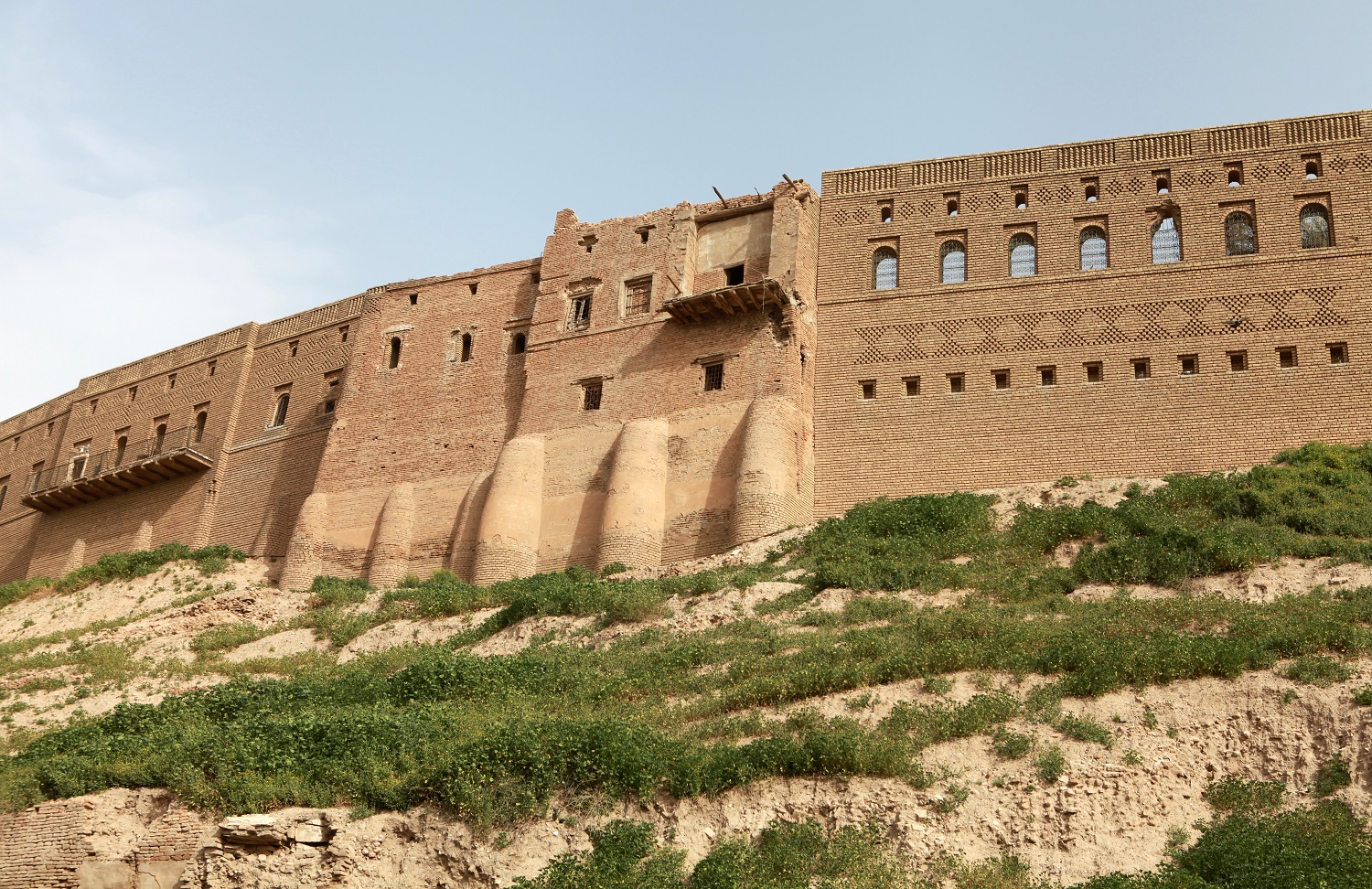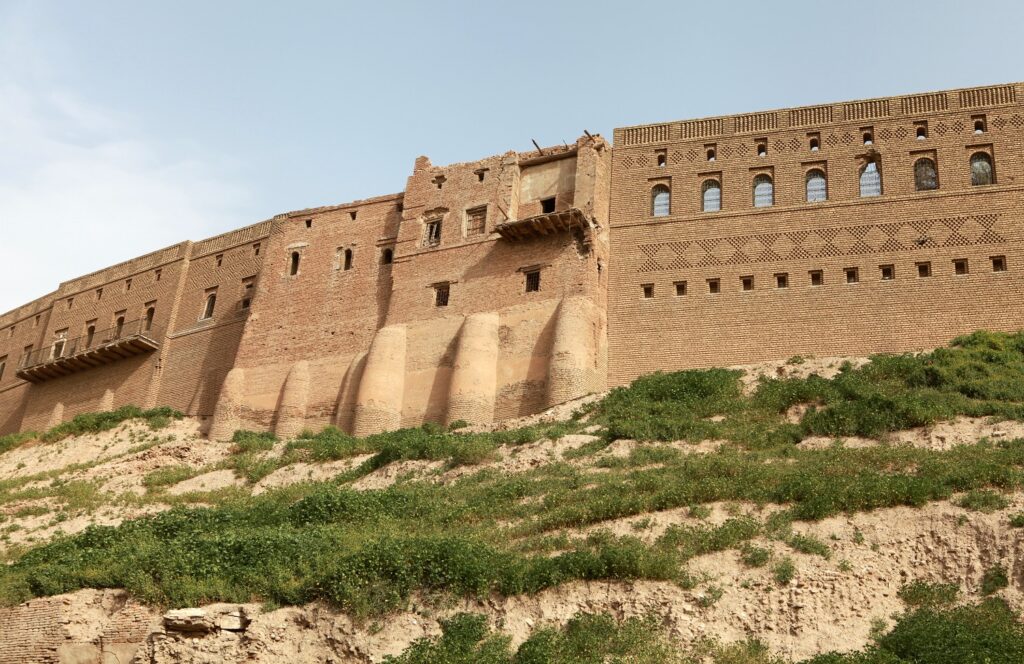 The first village was established here around the 6th millennium BC and has been continually inhabited ever since. The citadel has seen the reign of many historic civilisations, including Sumerian, Akkadian, Babylonian and Assyrian. Other powers, including the Achaemenids, Greek, Parthians, Seljuks, and Sassanids, also dominated the citadel before it was finally conquered by the Ottomans.
Sitting at the south entrance to the citadel is an imposing statue of Mubarak Ahmad Ibn al-Mustawfi (1167–1239), a former minister and historian from Erbil who rose to fame chronicling the history of this ancient city. From here there is an impressive view over Shar Garden Square and the rooft ops of the covered Qyesariyeh Bazaar below.
Until 2006, the interior of the citadel contained more than 600 houses and the area was abuzz with daily life. Today, with restoration work by the Kurdistan Regional Government (KRG) in co-operation with UNESCO going on, an eerie silence reins. The main gate overlooking the town, which was rebuilt by Saddam Hussein, has been removed and a fresh gate, more in keeping with the original one, built in its place. The walls of the citadel are slowly being repaired and its inner historical houses are being reconstructed and refurbished under the auspices of the UN and converted into various smaller museums.
Qyesariyeh Bazaar
South of the citadel, this covered market is the oldest in Erbil. The name (from Roman 'Kaiser') is common in this part of the Middle East and refers to the importance and value of the goods sold under the bazaar's vaults.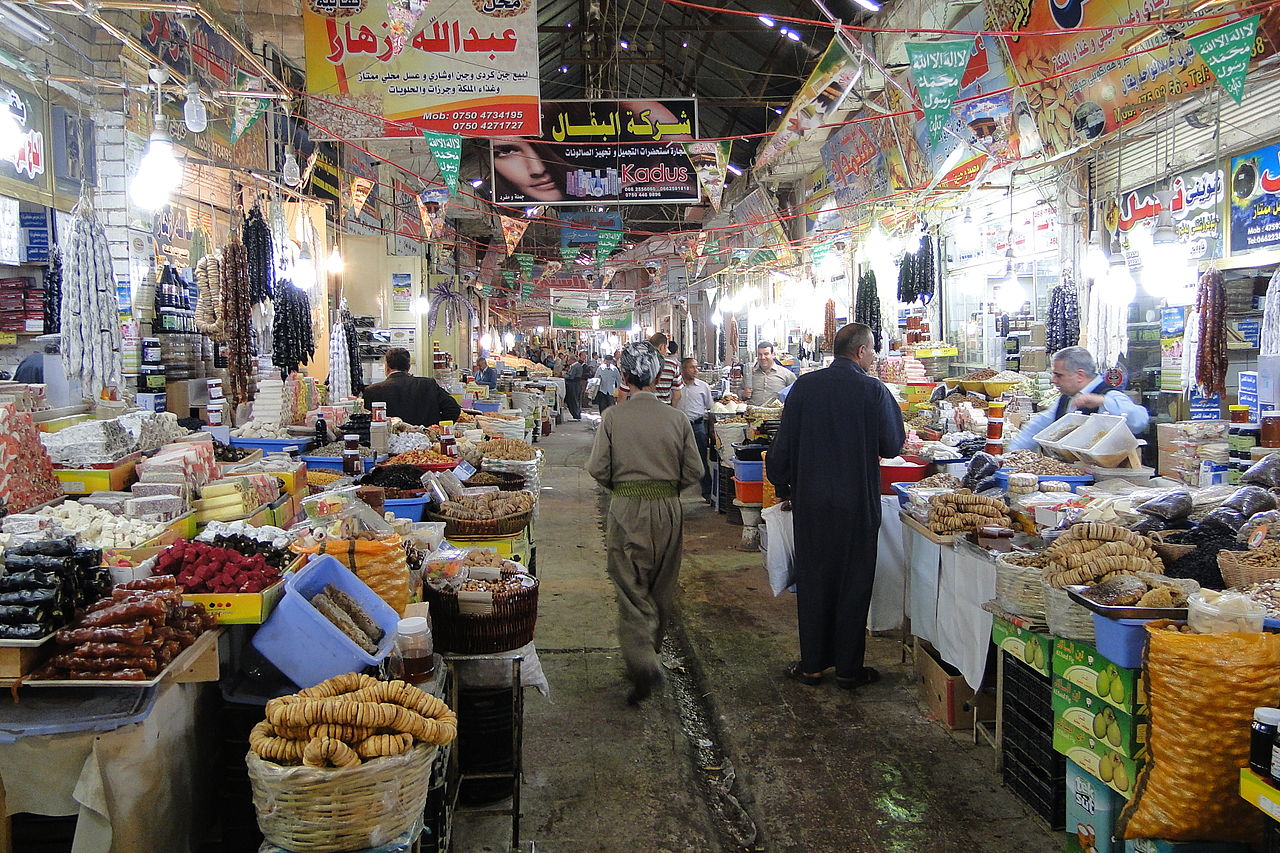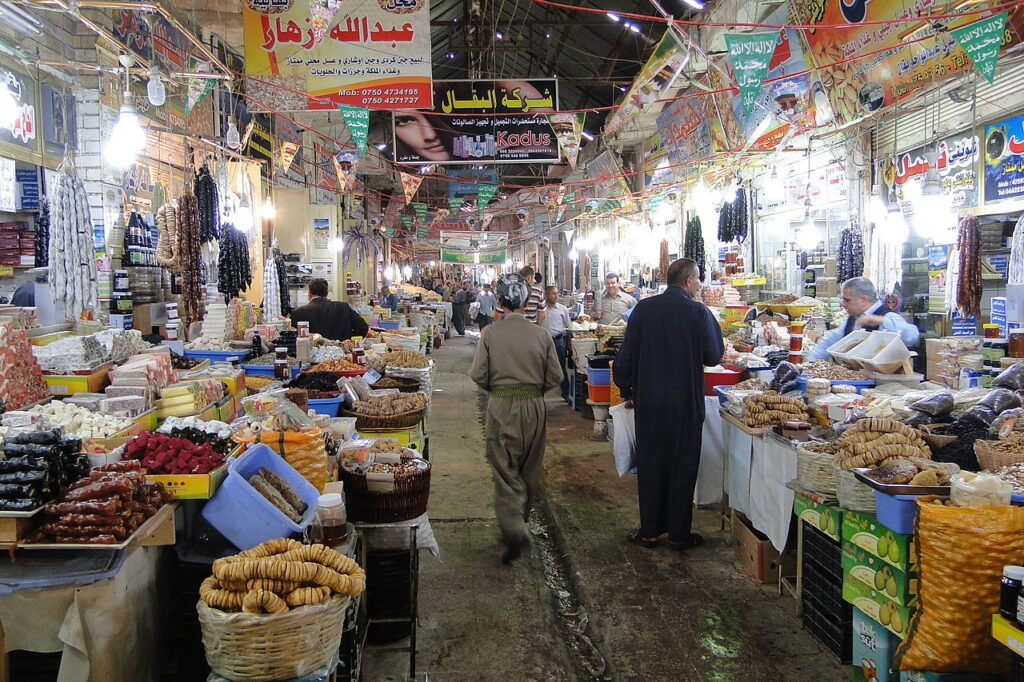 You enter through a number of alleys surrounding it, and walk through the maze of narrow paths between the shops. Many of the alleys contain similar products: clothing, shoes, jewellery, cloth. In the northeast corner is a north–south alley selling a variety of honey, yoghurt and cheese.
But the one product that thrives in the bazaar is gold. Displays are filled with pure 18-, 22- or 24-carat gold; you really can't find anything less than that. In Erbil, when a couple get married it is traditional for their families to go to these stores to pick out the ring, necklace and bracelet for the bride.
Shar Garden Square
In front of the Qyesariyeh Bazaar just below the citadel, this modern public square and esplanade is complete with fountains, brick arcades and a clock tower modelled on London's Big Ben.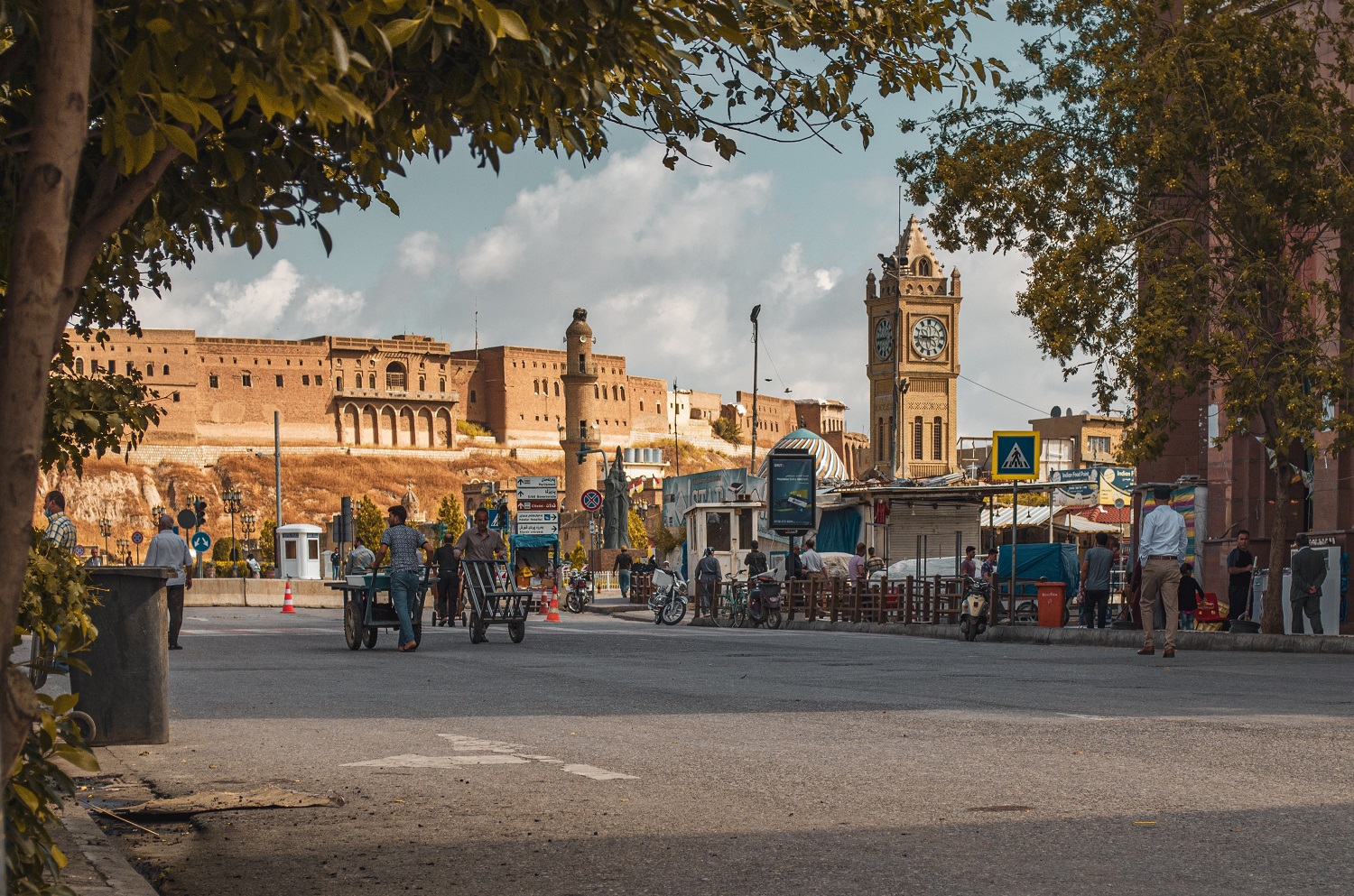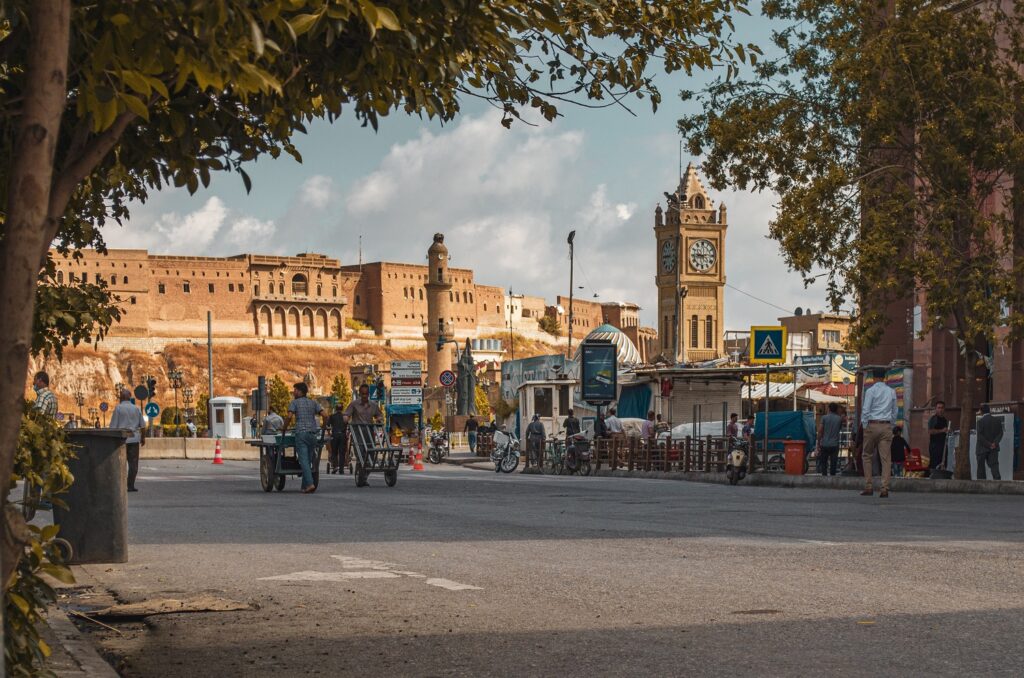 A favourite haunt of Erbilites with its narghile cafés and tea shops, the square attracts locals of all ages and during the summer is alive with tourists from the southern provinces. Part of Erbil's urban redevelopment plan, the square offers a great view of the citadel and its many fountains cool the arid air, bringing a refreshing respite from the bustling bazaar.
Minaret Park and the Muzzafariya Minaret
A short walk or taxi ride southwest from the citadel, this is without a doubt the most architectural of Erbil's green spaces. Minaret Park offers up an eclectic fare of circular terraces, Etruscan columns and cascading fountains. Lit up like an urban wonderland on summer evenings, it is a popular destination for the city's youth and young families taking in the cool evening air. Well-planted walkways and shaded groves provide a romantic backdrop for promenading couples and a raised-terrace café offers narghiles and welcome refreshments.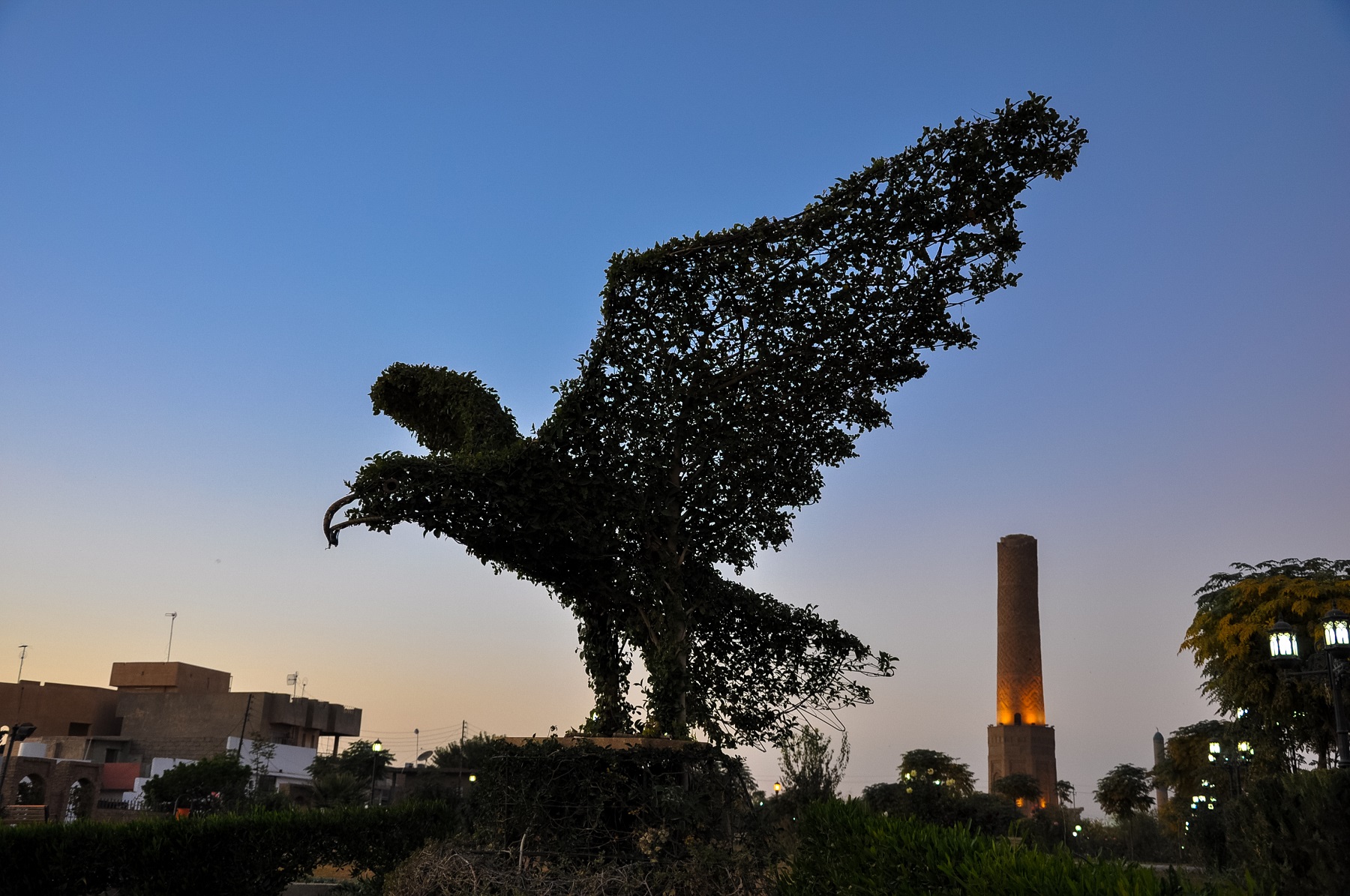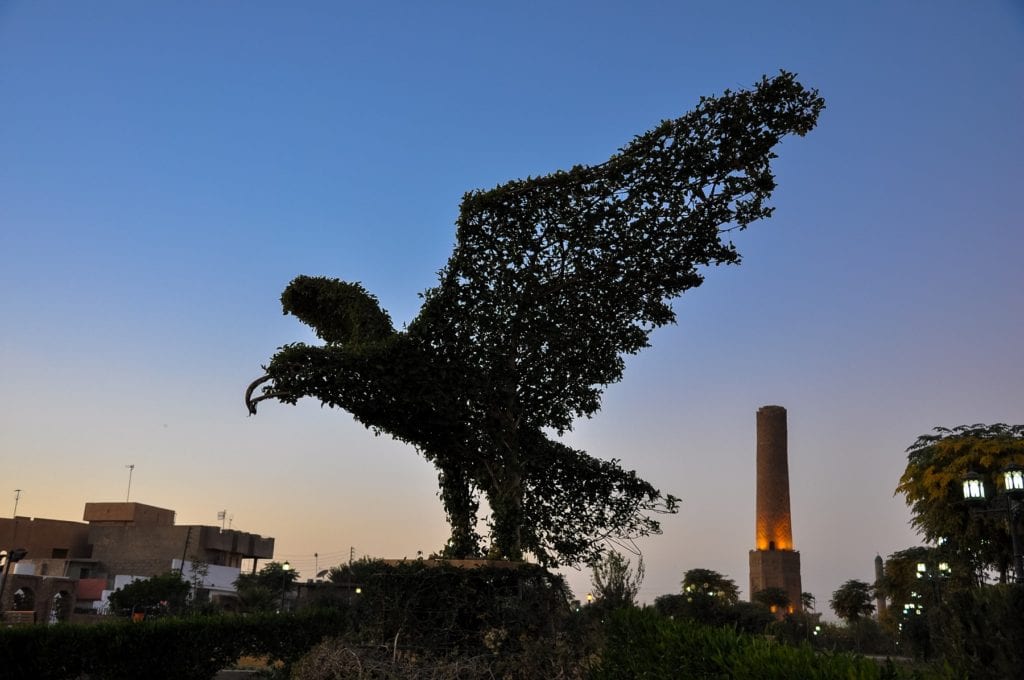 Tucked away in a quiet corner of the park is the 36m-high Muzzafariya Minaret, dating back to the reign of King Muzzafar al Din Abu Saeed al Kawkaboori (brother-in-law to the crusader-battling Saladin) in the late 12th/early 13th century. The ornate brick minaret has an octagonal base decorated with two tiers of niches, which are separated from the main shaft by a small balcony, which is also decorated. It is all that now remains of the city's medieval growth beyond the confines of the citadel.
Shanidar Park
Connected to Minaret Park via a cable car is Erbil's oldest permanent exhibition space. Although much of the artwork on display in the gallery's regularly rotating exhibitions doesn't stray too far from what you might expect from a provincial art space showcasing mainly student works, there are occasional treasures to be discovered.
A visit to the gallery can also provide an opportunity to meet local artists who, language-permitting, will be delighted to talk about their work and experiences. Don't be surprised to find queues after sunset in the summer months when locals turn out in swathes to take in the cool evening air and do a little people-watching of their own.
Sami Abdulrahman Park
The biggest and greenest of Erbil's parks, Sami Abdulrahman is situated west of the citadel on 60 Meter Street, opposite Kurdistan's Parliament and Council of Ministers buildings. It is a favourite spot among the residents of Erbil for family picnics and a welcome refuge from the hustle and bustle of the city.
The park is divided into well-mapped sections with leafy walkways, rolling lawns and flower gardens, a small amphitheatre, and a health club complete with open-air swimming pools, a gym and a sauna. During the summer months, the park stays open long after sunset and this is when it is busiest. It has several well-equipped play areas for children, lakes offering boat rides, fountains and a garden restaurant with a basic but well-prepared selection of local culinary delights.
Formerly a large military complex, the park takes its name from a former prime minister killed in a 2004 suicide bomb attack that claimed around a hundred lives. The large Martyr's Monument in the park dedicated to the victims of the attack provides a solemn reminder of Iraq's bloody history and Kurdistan's struggle for autonomy. A poignant inscription on the monument reads simply: 'Freedom is not free'.
Where to stay in Erbil
The last few years have seen a dramatic increase in both the number and standard of hotels in Erbil. Accommodation prices are significantly higher than you would expect to pay for similar accommodation elsewhere, due in part to the influx of business travellers and NGOs.
It is always worth trying to negotiate the price or asking for a discount, especially during low season and especially as an individual traveller. Budget hotels (under US$20) are best to be avoided, if possible. Doubling this amount for two people per night will get a comfortable lower mid-range room with a breakfast.
Getting to Erbil
Most flights operating from Europe and the Middle East fly directly to Erbil International Airport, located 7km northeast of the city.
To/from Europe, Austrian Airlines operates a daily flight to/from Vienna. Lufthansa has two services per week to Frankfurt. National flag carrier Iraqi Airways flies once a week to Copenhagen, Düsseldorf and Frankfurt. There is also an extensive network of flights to destinations in the Middle East. FlyDubai fly daily to Dubai.
Erbil International General Terminal near Family Mall is the main bus station with regular shared taxi departures to Duhok, Mosul and Shaqlawa as well as buses to Turkey and Iran. From here there are daily services to various destinations in Turkey, including Diyarbakir (10–15hrs) and Istanbul (36–48hrs) operated by Cizre Nuh Buses, Can Diyarbakir Buses or Best Van.