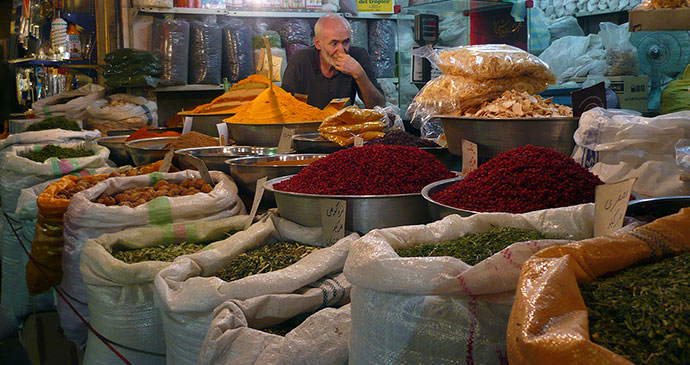 A spice seller at the bazaar © Mohammad Jhiantash, Wikimedia Commons

Stroll through the ever-surprising and eye-catching Esfahan bazaar, renowned for its fantastic selection of Persian carpets.
Since 1998 many more shops, including one or two selling the famous Esfahani gaz or nougat, have reopened in the covered arcade running all around the square. Before walking through the main 17th-century door of the bazaar, look up and you'll see a Sagittarius figure and Shah Abbas victorious over the Uzbek enemy, as described by Jean Chardin in the late 17th century. The recent cleaning has also revealed a depiction of Europeans playing chess high up on the right. Above, there was a gallery where musicians banged and trumpeted every sunset, causing foreign merchants to suffer violent headaches, and a Portuguese bronze bell marking the Safavid conquest of Hormuz.
Just inside the door, immediately on the right, a narrow alley leads into a small courtyard of cotton block-printing workshops. There is an endless variety of printed cottons; prices depend on size, quality of the fabric and the colour complexity of the design. Dealers now greatly outnumber the makers and just one or two of them are retained to show tourists the basic technique.
The bazaar runs northwards and eastwards intermittently. The main carpet quarter is situated to the far left (west) away from the main street; a short walk through here will raise serious doubts in your mind whether there are enough homes worldwide to house all these carpets.