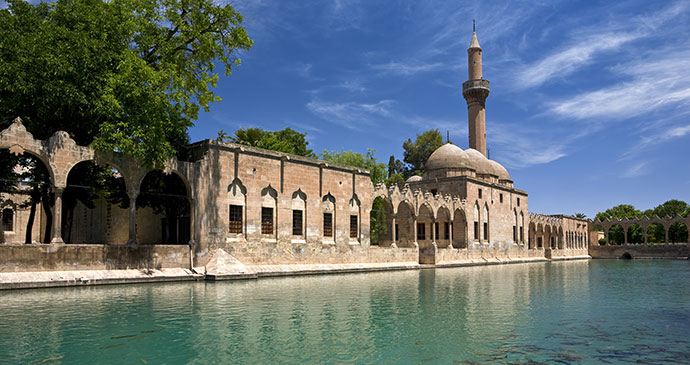 The pool of Abraham beside the Halhi Ar-Rahman Mosque © WitR, Shutterstock
Turkey's highest peak at 5,165m dominates the landscape for 50km all around.
From afar the slopes of Mount Ararat look deceptively easy to climb, but in practice the jagged lava fields are very tricky to negotiate, and significant numbers have been killed in the ascent. Long considered impossible to climb by local people, it was first climbed in 1829 by a German, Professor Parrot, on his third attempt, and then by a steady trickle of German, Russian, British and most recently Turkish mountaineers. All ascents were still discounted by both local Kurds and Turkish officials until the 1950s, and even today some villagers do not believe it is possible to ascend the mountain. Political problems dogged the area for most of the 20th century, and before 1982 there were no more than a handful of successful ascents, many of them illicit. The base of the mountain's cone covers an area in excess of 2,500km, a fact which helps us to understand why, in summer 2008 when the PKK kidnapped three Germans from Camp 1 at 3,200m and hid with them on the mountain for ten days, the Turkish military had no chance of finding them, or indeed of sealing off the mountain. The risk of kidnap by Kurdish separatists is small, but when times are tense, the Turkish authorities close the mountain to climbers. It was closed for several years in the 1990s, but reopened in 2000. It has generally stayed open ever since, apart from the occasional short closure, such as the six-week closure that followed the kidnap of some German climbers in summer 2008. Whole communities of Kurdish nomads live on the lower slopes of Ararat in the summer months, below 3,200m, either in villages or in tented encampments with their livestock of sheep, cattle, horses and chickens to enjoy the rich pastures.