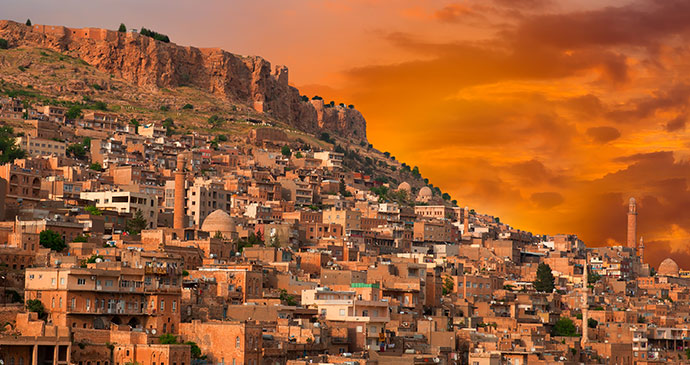 Evening over Mardin's old town © muratart, Shutterstock
Enjoy excellent Syrian cuisine and astounding Arab-style architecture in this heartland of Turkey's Syriac Christians.
Mardin
Mardin is 96km south of Diyarbakır. As you approach from the north, the modern town now sprawls unattractively over the hill before you can see why you have come here, but be patient. You must continue right up on to the rocky crag where old Mardin sits, perched, facing south over the Syrian Desert. Only then do you begin to catch glimpses of the beautiful stone-carved and decorated mansions, Arab-style, which are Mardin's real attraction. Some are almost like palaces, hinting at the past splendour of the town, though unfortunately many ugly modern buildings have recently been allowed to insert themselves. Back in the 1980s many of the old houses were decaying, but now a significant number have been restored and put to use either as museums or as plush hotels or restaurants. Mardin generally has cleaned up its act, and the squalor of the back streets 20 or 30 years ago is a thing of the past. The Turkish government is promoting Mardin to both Turks and foreign visitors, and projects an optimistic five million per year visitors within the next ten years. Tourism here needs to be handled sensitively, otherwise Mardin is in danger of becoming overpriced and over trendy. Allow at least half a day here to appreciate it properly, either overnighting here or at Deyrulzaferan, the nearby Syriac Orthodox monastery, if you have set it up in advance.
The Tûr Abdin
The Tûr Abdin translates literally as 'the Servants' Plateau', but the French phrase it more elegantly: 'Montagne des Serviteurs de Dieu'. This highland region east of Mardin and with Midyat at its centre is the heartland and homeland of the Syriac Orthodox Church. A stay of several nights would be warranted in this region to visit the fascinating mix of monasteries and churches, some still functioning, some ruined, which are scattered about the landscape, often in defensive positions on hills or cliffs. The final monastery is listed under Midyat.
Sometimes known as Jacobites, they owe their founding to Jacob Baradai who, in the 6th century, was sent to Antioch by the Monophysite-leaning Empress Theodora, wife of Justinian. From there he roamed for 35 years, dressed only in a horsehair blanket, preaching and converting across Syria and the Tûr Abdin.
Among the legends associated with the region is the one that Noah's Ark came to rest on Mount Kadur (also known as Mount Cudi), which rises to 2,114m east of Cizre and opposite the town of Şırnak (rather than on Mount Ararat, the more popular story). The name of Şırnak is a deformation of Şehr-i Nuh, meaning City of Noah. At any rate, Noah's grave in Cizre is a point of pilgrimage for Christians and Muslims alike. From a base of Mardin, the excursion to Deyrulzaferan, the closest to Mardin and most westerly of the monasteries, takes half a day.