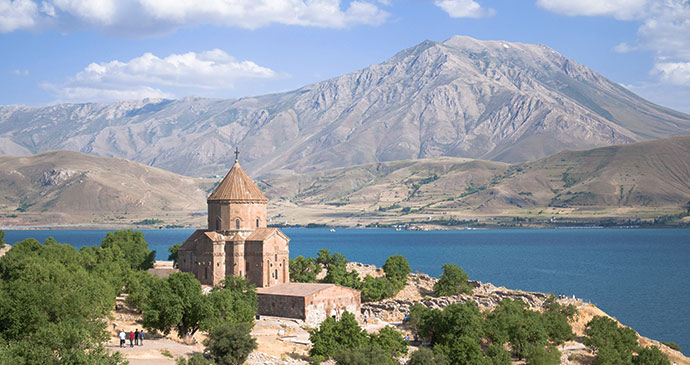 Armenian Cathedral Church of the Holy Cross on Akdamar Island © MURAT KARSLI, Shutterstock

Tiny islands graced with Armenian churches lie in this vast mountain-ringed lake.
No-one forgets Lake Van. Make sure you spend at least three days around the shores of this, Turkey's biggest lake, seven times bigger than Lake Geneva, enjoying the water and the scenery and visiting the castles, churches, mosques and tombs left round its shores by earlier civilisations. May and September are the best times to come. In winter from mid-October to mid-April it is too snowbound to be able to enjoy it properly. The high summer months of June, July and August are the best for climbing in the area however, so if you want to scale the two huge volcanoes that stand on the northern and western shores, Nemrut Dağı (not the same as the more famous mountain sanctuary of Antiochus further west, though sharing the same name) and Süphan Dağı, come then. These require camping on the mountain, so at least three further nights are necessary. The area has almost unlimited hill walking opportunities, where the goal can be a remote mountaintop Urartian citadel or a ruined Armenian monastery long abandoned in the wilderness. Until the mid 1960s this whole region was a restricted zone which no-one could enter without special permission. The roads were unspeakable then, and terrible in the 1980s, but they are very good now, so moving about has been transformed.
The serenity of the lake hides its troubled history well. The Hurrian ancestors of the Hittites were the first rulers here in the 2nd millennium BC. It was the Urartians, however, coming from the south and the southeast around the great Zab Valley in the Hakkâri region, who created the greatest empire and period of stability, ruling from 900BC to 500BC. Their civilisation only began to be truly appreciated in the 20th century with the excavation of their hilltop citadels and palaces and the discovery of their beautiful gold artefacts.
A century ago the shoreline was much more wooded and green, but man has left his mark and only very few wooded stretches now remain. Cuneiform documents dating back to the Assyrian invasion here in the 8th century bc talk about cutting down forests as dense as rushes. 'Van in this world, Paradise in the next' is the old Armenian proverb that summed up the once-legendary fertility of this region. In some of the villages however, like Adilcevaz, there are still excellent fruit trees, especially apricots. Van was also where the cantaloupe melon originated. The pope in Rome once had a farm of his own called Cantalupo and he imported Van melons to grow on it. From there they spread all over the world as cantaloupes.