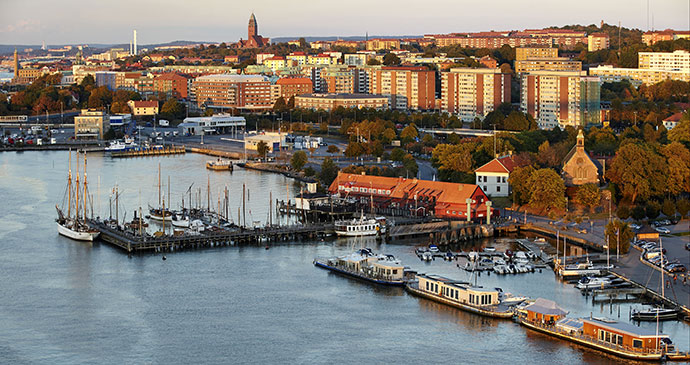 The busy harbour entrance of Gothenburg © Kjell Holmner, vastsverige.com
Meander through the elegant boulevards and canals of Sweden's cosmopolitan second city.
Dominating the entire west coast of Sweden, handsome Gothenburg (Göteborg) is an instantly likeable place. The city, Sweden's second largest with a population today of around half a million, was actually designed by the Dutch, world experts in the early 1600s in draining and building on marshland. By order of the Swedish king, the Dutch dug a total of four canals to channel water into the Göta river – two of them remain. Indeed, Gothenburg's layout of streets and canals bears a striking resemblance to that of the Indonesian capital, Jakarta, which was also built by the Dutch at the same time. Founded in 1621 and occupying a prime location on the shores of the Kattegatt (an arm of the North Sea), at the mouth of the Göta river, Gothenburg has traditionally sought its fortunes through sea-borne trade. The Swedish East India Company, established a century or so later in 1731, generated considerable wealth through commercial links, particularly with China.
Many of the city's imposing classical stone buildings, often lining the canals, were built around this time; one fine example is Ostindiska Huset, which once served as the company's headquarters. Over the centuries, a succession of Dutch, German and Scottish merchants settled in Gothenburg – sometimes founding commercial dynasties, sometimes simply securing a proportion of the city's lucrative trade for themselves. Gothenburg has always been an international city, and that cosmopolitan spirit lives on today.
Central Gothenburg can be divided into three main areas: the grid of streets between the Göta river and Centralstation, which lie north of the Stora Hamnkanalen canal; the shopping streets south of the canal, located between the Trädgårdsföreningen park and the river; and the area south of Kungsportsplatsen square, dominated by Avenyn, the city's main boulevard. Out of the centre, there are again three main areas worthy of exploration: studenty Vasastaden, west of Avenyn, with its fine 19th-century and National Romantic architecture; the former working-class district of Haga, west of Vasastaden, now a haven of trendy cafés and restaurants; and, finally, Linné, west and south of Haga, which includes the glorious Slottsskogen park and botanical gardens.