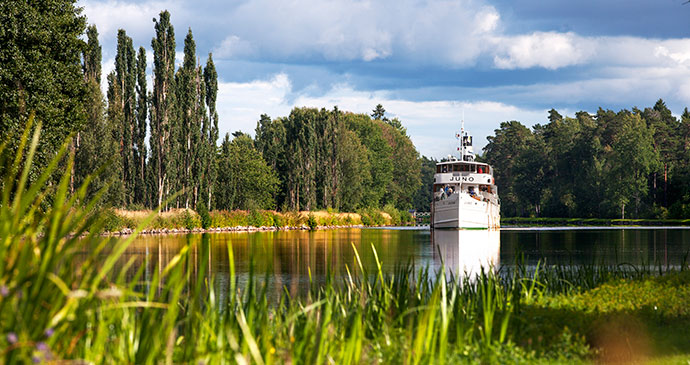 Drift down the Göta Canal on the ferry Juno © Åsa Dahlgren, vastverige.com
One of the country's historic landmarks, the Göta Canal remains a defining feature of Sweden.
The most beguiling stretch of the canal lies between the great lakes of Vänern and Vättern in the province of Västergötland – a leisurely boat trip or cycle ride between Sjötorp and Töreboda is a great way to see the canal and the surrounding countryside. For an overnight stop, look no further than the converted mill at Norrqvarn, right alongside the canal, where there's an accomplished restaurant, too.
At Karlsborg, on the western shores of Lake Vättern, you can get to grips with Swedish military history and explore the impressive fortress which was designed to protect Sweden from a possible military invasion during the 19th century. West Sweden's rich industrial heritage is on display in nearby Forsvik where you can visit a converted foundry and paper mill.
Nature lovers are well served, too: Tiveden National Park, north of the canal, boasts a protected area of virgin forest, one of the few in the entire region, and a network of hiking trails provides ready access on foot to some of the giant boulders and deep ravines for which the park is also justifiably known.