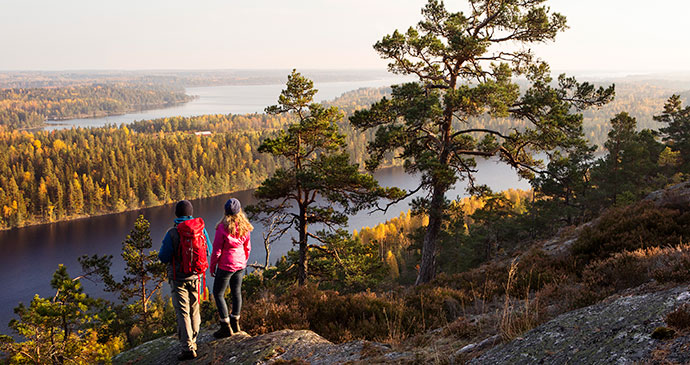 Dalsland's hilly terrain offers outdoor enthusiasts spectacular panoramas © Roger Borgelid, vastverige.com
Truly a land of lakes and forests, Dalsland is a haven for outdoor enthusiasts.
Sandwiched between Bohuslän to the west and Lake Vänern to the east, the province of Dalsland is West Sweden at its most rural. Sparsely populated, Dalsland is truly a land of lakes and forests; there are few towns here and the only settlement of any size, uneventful Åmål, located in the far northeast of the region, sees few visitors.
But nobody comes to Dalsland for its towns – instead the area is known for its great range of outdoor activities which make full use of the unspoilt nature which abounds here: fishing, kayaking, horseriding, hiking, even pedalling a railbike along disused railway tracks are all popular. Dalsland is also the location for one of the region's latest and most unusual attractions: a stay in a cabin made of glass, rather than wood, allowing you to completely surround yourself by the sights and sounds of Swedish nature. Indeed, the cuisine here takes its cue from the great outdoors, too: game, freshwater fish, berries and mushrooms all feature prominently on the menu.
The place to aim for is Dals-Långed, a small village roughly in the centre of the province, from where you're within easy reach of the main attractions – and also one of the most idyllic places to stay. If, however, you're looking for something less energetic, head for Bengtsfors, a modest little place in the north of Dalsland, from where you can take a boat trip along the graceful Dalsland Canal, with its 30-odd locks, down to Håverud where you'll find Sweden's one-and-only aqueduct.