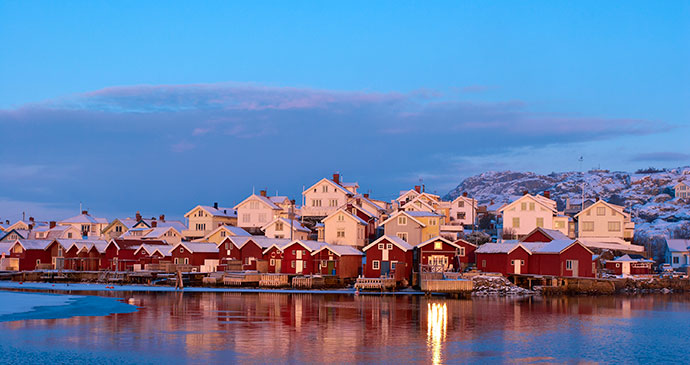 Bohuslän in winter © Jonas Inman, vastverige.com
To put it simply, Bohuslän is west Sweden at its best.
Without a doubt, the Bohuslän coast is one of Sweden's most enchanting and alluring regions. As you'd expect, the landscape is dominated by the sea: this is a region of rocky bluffs, cliffs, islands and skerries that stretches for 160km from Gothenburg to the Norwegian border.
Yet what makes this deeply indented coastline, punctuated with no fewer than 8,000 islands, so special is the unusual colouring of the rock – pink. Known as Bohus granite, the rock bears a distinctly pink hue and is found extensively between Fjällbacka and Lysekil, often running in linear formation a little off the coast. Naturally, small fishing communities grew up around the numerous natural harbours and herring, in particular, remained the region's lifeblood until the early 1900s.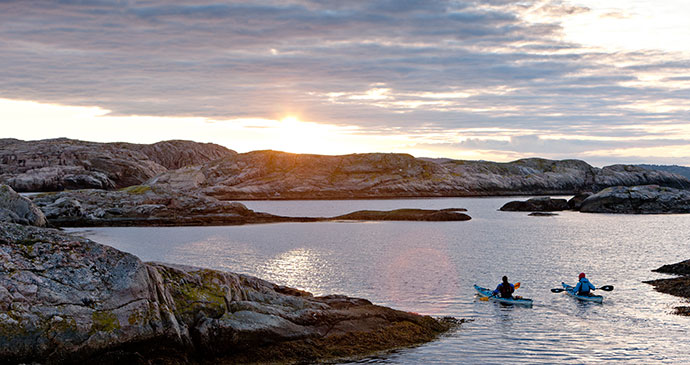 Take to the water in a sea kayak and explore the coast's uninhabited islets and islands at your own pace © Henrik Trygg, West Sweden Tourist Board
Today, though, Bohuslän is known for its succulent seafood: mussels, oysters, lobsters, langoustines, crabs and prawns all thrive in the deep, cold and exceptionally clean waters off the Swedish west coast. The cold waters cause the crustaceans to grow more slowly than in warmer climates, which consequently produces an exceptional taste. A trip up the coast offers the opportunity to see and sample mussels and oysters in their natural habitat on board a 'seafood safari'; alternatively, take to the water in a sea kayak and explore the coast's uninhabited islets and islands at your own pace; or head out to any of the larger islands for a spot of island hopping, or simply cycle along quiet country lanes out to the beach and laze in the summer sunshine.
Inland, Bohuslän offers a range of diversions: everything from stunning Bronze Age rock carvings – the greatest concentration of carvings located anywhere in Scandinavia – to a superb wildlife sanctuary and marine park housing some of the world's most endangered species. Quite simply, Bohuslän is West Sweden at its best.