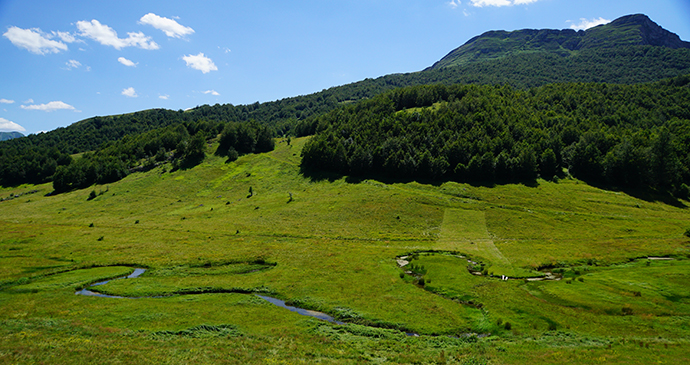 The serpentine creek of Studeni potok near the village of Umoljani © balkanyrudej, Shutterstock
The natural beauty of its surroundings is still among the most striking in the area.
Although this highland village was destroyed during the war, much of it has been rebuilt. The natural beauty of its surroundings, though, is still among the most striking in the area. The south side is a typical karst landscape that is dry and rather barren; the north side is lush with thick forest and green pastures and is ideal for hiking, walking or a picnic. The tombstones of ancient settlers can be found scattered around the village, with many medieval tombstones perched on high ridges.
During Ottoman times, Umoljani had to face its own demons. There were rumours of a dragon-like creature roaming the foothills of Obalj Mountain. Some shepherds swore they saw it, others claimed to have lost sheep to the creature. The villagers were panic-stricken. The local Muslim priest (hodža) decided to go and find this dragon. He expected to find nothing but asked the villagers to pray for him while he was gone. For days, there was no sign of the hodža and the scared villagers diligently prayed. Then, as the tale goes, the hodža met the beast just above the shepherds' summer huts. He, too, used prayer as his main weapon, and in an instant the dragon was frozen in stone on top of the mountain. The hodža returned with news that he had defeated the dragon. He gave credit to the faith and prayers of the villagers for his impossible victory and named the village Umoljani, meaning 'Of the prayers'. On a peak just above the village of Umoljani is a rock formation that very much resembles a dragon.