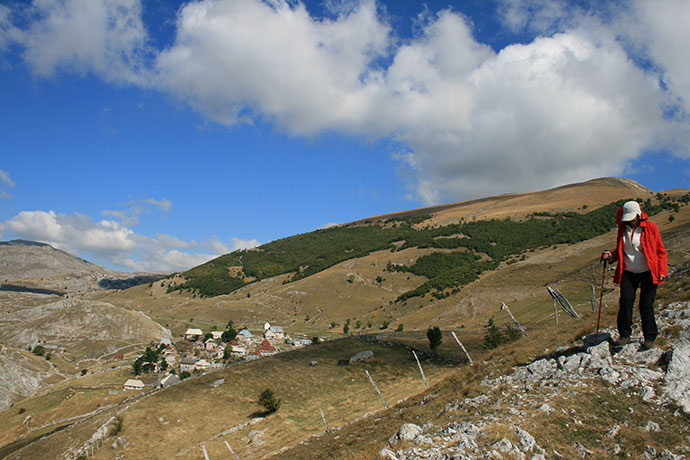 Hiking above Lukomir, Bosnia's finest highland village © jimmy, Shutterstock
The most isolated settlement in BiH, Lukomir is the best example of a highland village in the country.
The village of Lukomir is perhaps the finest example of a highland village; it is the highest and most isolated permanent settlement in Bosnia and Herzegovina at 1,455m. The village, with its traditional architecture, has been deemed by the Historical Architecture Society of the United Kingdom as one of the longest continuously inhabited villages in all of Europe. The stone homes with cherry-wood roof shingles mark a practice that can no longer be found elsewhere on Bjelašnica.
The villagers are mainly shepherds who live off the sale of sheep products. Lukomir is known for its traditional attire as well, and the women still wear hand-knitted costume styles that have been worn for centuries. Electricity was introduced to the village and running water installation was completed in 2002. Access to the village is impossible between the first snows in December and late April, and sometimes even later, except by skis or on foot. Getting to Lukomir is complicated; you need an off-road vehicle to get close to it. There are no buses.