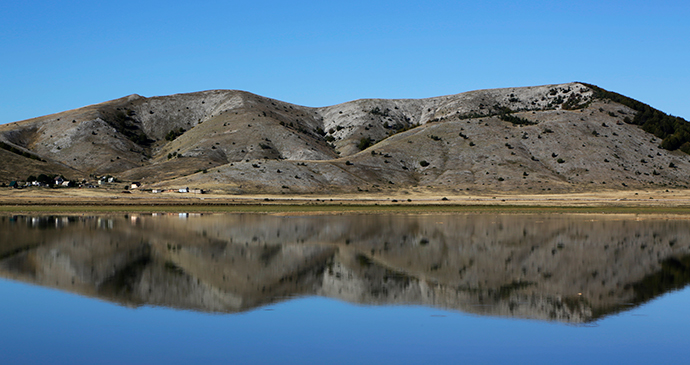 Blidinje Lake in Blidinje Nature Park © Elma Okić
This vast valley is the natural point to start the real trekking on the Via Dinarica White Trail from the west.
Blidinje Nature Park is a visually stunning environment. The impressive natural endowments of the park include the highest summits of Vran Mountain, including Veliki Vran at 2,074m, and Vran, which has an altitude of 2,020m. Additionally, the park has some interesting cultural heritage to explore, including Saint Elijah's Church, an artistically decorated church of St Elias, and Masna Luka, a Franciscan monastery located at an altitude of 1,200m. Near the Hajdučke Vrleti motel in the middle of the valley there is a necropolis of stećci, part of the UNESCO World Heritage Site.
Blidinje's vast valley is a popular summer destination for hikers and mountain bikers with the heart of the Via Dinarica trail covering both Vran and Cvrsnica Mountains. In the winter time, Via Dinarica is exciting for snow shoeing and tour skiing, but also for skiing at Risovac. It is one of the most remote nature parks in southeast Europe.