Clisson is a gorgeous riverside town, bedecked with unusual Italianate architecture.
Your first impression on arriving at this delightful town on the banks of the Sèvre Nantaise River, just 45 minutes southeast of Nantes and just across the northernmost border of the Vendée, is of having somehow strayed into a corner of Tuscany – an unexpected side-effect of the Vendée Wars.
The Republicans' relentless 'fire-and-sword' policy ruined the castle in 1794 and flattened Clisson, leaving just two ancient bridges across the Sèvre and its tributary, the Moine. Rebuilding was started in Italian style by wealthy brothers Pierre and François Cacault, with Frédéric Lemot, a sculptor whom they had known in Italy.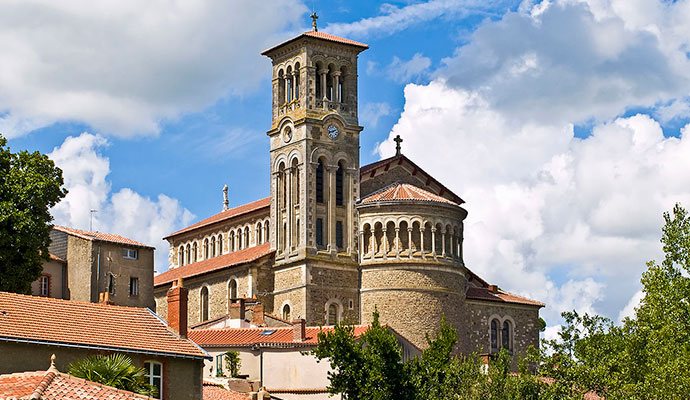 The idea caught local imagination and from the early 19th century all kinds of Italianate buildings – including factories – grew up along the two rivers. Today, on summer nights when they are floodlit, Clisson's ruined castle, steep cobbled streets and flights of steps take on a truly magical quality. Try to avoid visiting between Sunday and Tuesday, though, as either castle or shops are closed. Across the ancient packhorse bridge, the St-Antoine district on the north side of the river is taking on a new lease of life.
In recent years, a smart hotel has opened in the restored watermill, and around the town centre are a clutch of art galleries, smart shops and one of the upmarket La Fraiseraie ice-cream parlours. Just outside town, though easily walkable, is the gateway to the Garenne Lemot park. Back on the south side of the bridge, Friday mornings see Clisson's busy street market. There are restaurants to suit every taste and pocket, and shady picnic places near the Moulin Plessard watersports base, about 500m southeast.
Clisson enjoys a full programme of festivities throughout the year but oenophiles might brighten up their winters on the first Sunday in December with a visit to the Nouvel An du Muscadet, where tasting the year's new wines is the focus. Rather more left-field for this peaceful area is the Hellfest, a heavy-metal festival that rocks the place every June.