Italy's fourth largest lake, Trasimeno (45km in circumference) has a subtle charm, sleepy, placid and shallow, almost marshy in places. Large enough to create its own soft micro-climate, it shimmers like a mirror embedded in gentle rolling hills, its soft light captured over and over again in the finest works of its greatest artist, Perugino. The Etruscans of Camars (Chiusi) coveted the lake for its fish and the fertility of its shores, and around the time of their famous king Lars Porsena (the bad guy in Macaulay's Horatio at the Bridge) they founded Perugia to control it. In the 12th and 13th centuries, wars were fought for its eels. Napoleon took one look at it and wondered how to drain it.
Hans Christian Andersen, drawing on his own travels, put Umbria's Trasimeno in one of his fairy tales, The Galoshes of Fortune – how beautiful it was, but how poor the people were, and how wretched their lives among the swarms of flies, mosquitoes and malaria. A post-war dose of American DDT wiped out the latter, and stocking the lake with insect-eating fish has helped, and the lake has since become a modest resort – the Umbrian Riviera and centre of the Parco Regionale del Lago Trasimeno.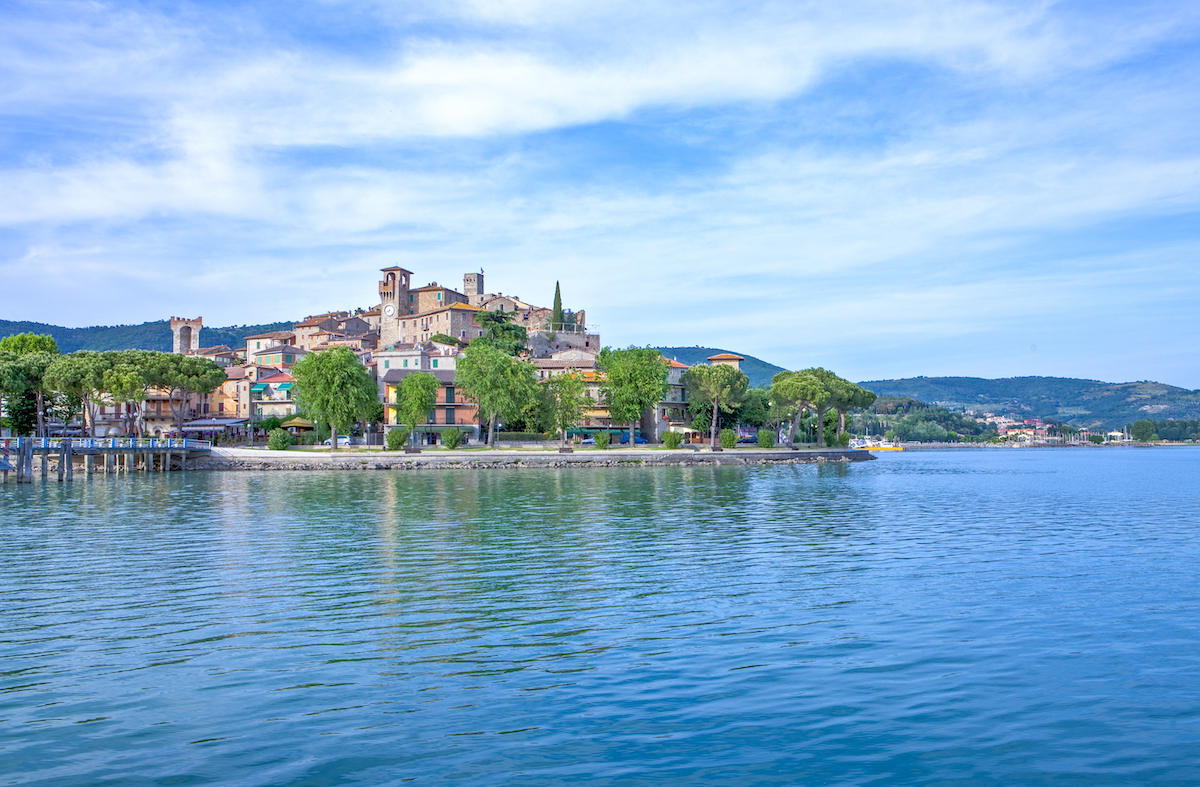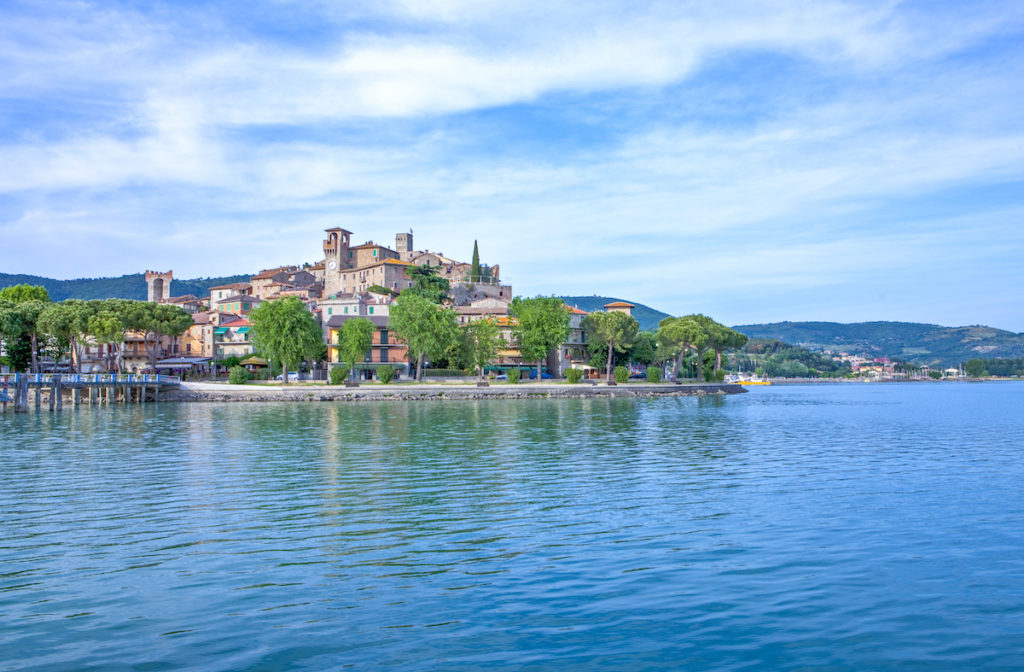 Never one to cooperate fully with humanity, Trasimeno, with a maximum depth of 6m, is now trying to become a peat bog. But fishermen skim over its waters, seeking eels, perch, tench, shad and carp. Ducks, cormorants and kingfishers love it, and water lilies float among the reeds.
What to see and do around Lake Trasimeno
Magione
Like any place within Perugia's radius, Magione spent the Middle Ages fighting. The recently restored 12th-century Torre dei Lambardi built by the Knights of St John (now of Malta) on top of the town, is now equipped with a lift for the lovely views.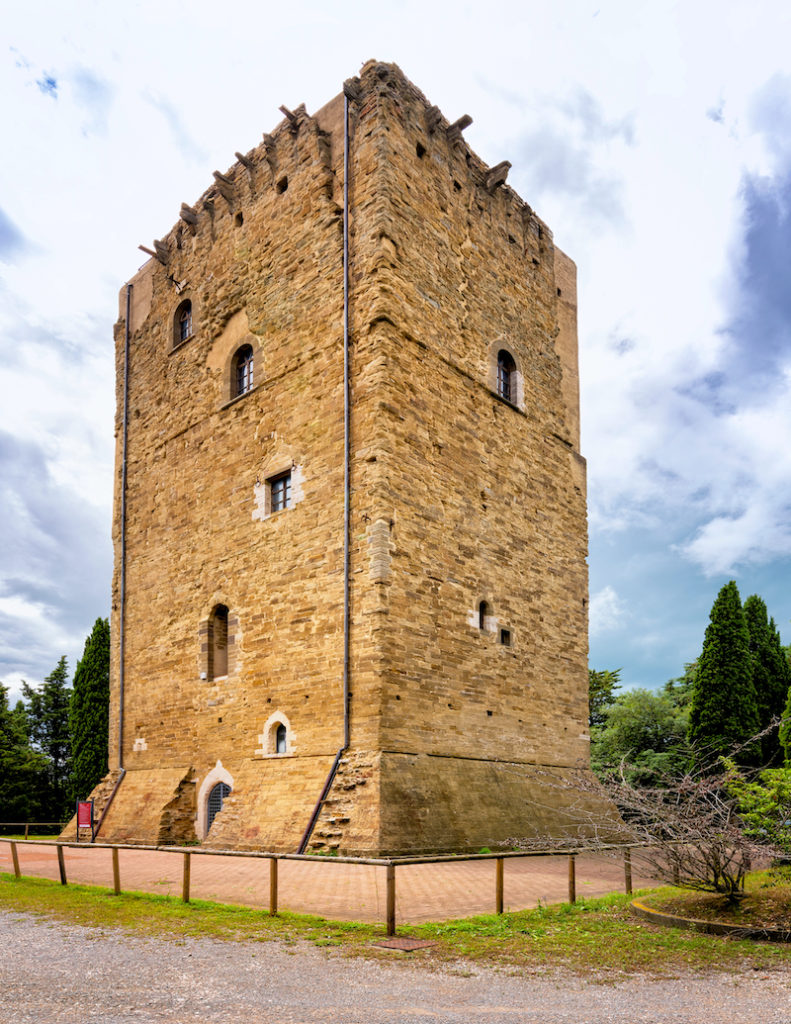 On the edge of Magione, the Castello dei Cavalieri di Malta (1420), is still owned by the Knights as the centre of their wine estate. In late July it hosts the Congiura, a re- enactment of a failed plot here against Cesare Borgia in 1502, recorded by Niccolò Machiavelli. The knights' church, San Giovanni, was damaged in the last war, and was rebuilt and frescoed in a traditional manner by Gerardo Dottori in 1947. On the main street, the little church of the Madonna delle Grazie has a lovely 14th-century fresco of the Madonna Enthroned by Bartolo di Fredi.
Tuoro sul Trasimeno
Tuoro grew up in the Middle Ages near the Castello di Montegualandro, a refuge for citizens whose town was attacked by every Tom, Dick and Harry crossing the Italian peninsula. But of all the battles that occurred here, it is famous for the one where Hannibal almost brought Rome to its knees. You can explore the battlefield by car or foot, along the 13 stations of the Percorso Storico Archeologico della Battaglia, dotted with viewing platforms, explanatory notes and maps that help bring it to life, along with the four major theories on how and where the various stages of the battle unfolded.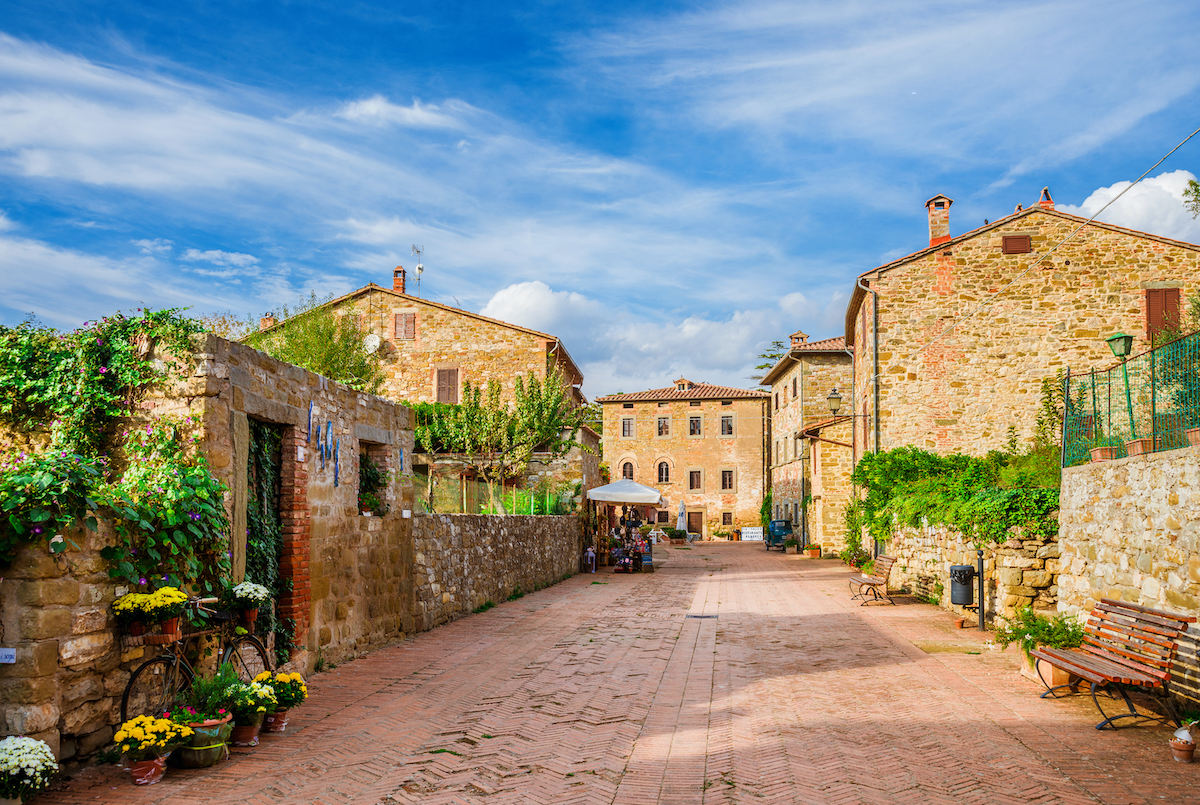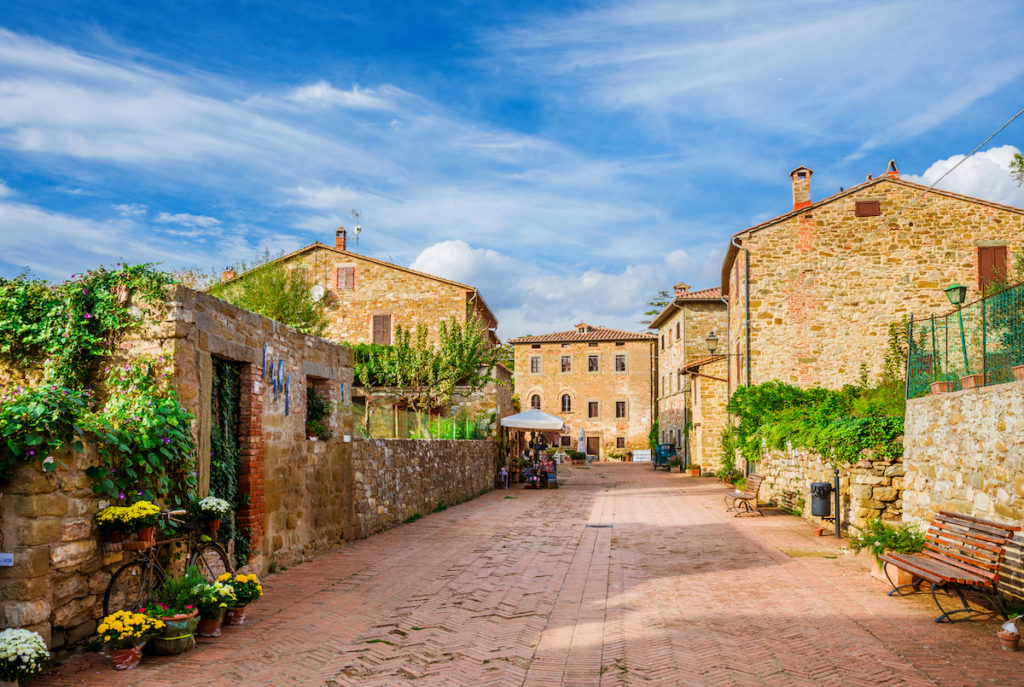 Tuoro has decorated its lakeshore with something unexpected: Pietro Cascella's Campo del Sole (1985–89), a 'solar temple' of 27 sandstone pillars, each about 14m high and sculpted by a different artist, arranged in a wide spiral like a forest of idols to a preposterous god.
Castiglione del Lago
Among the silvery olive groves that soften the west shore of Trasimeno – the beginning of an agricultural plain stretching into Tuscany – juts the promontory of Castiglione del Lago. In ancient times, when the lake was much bigger, this was an island. Frederick II destroyed medieval Castiglione for being an ally of Guelph Perugia, then ordered Fra Elia Coppi to lay out the streets and squares that are still the core of the old town. Afterwards, Castiglione kept siding with Cortona, causing no end of friction with Perugia until 1490, when it came under the Baglioni, who during their brief period of glory hosted Machiavelli and Leonardo da Vinci here.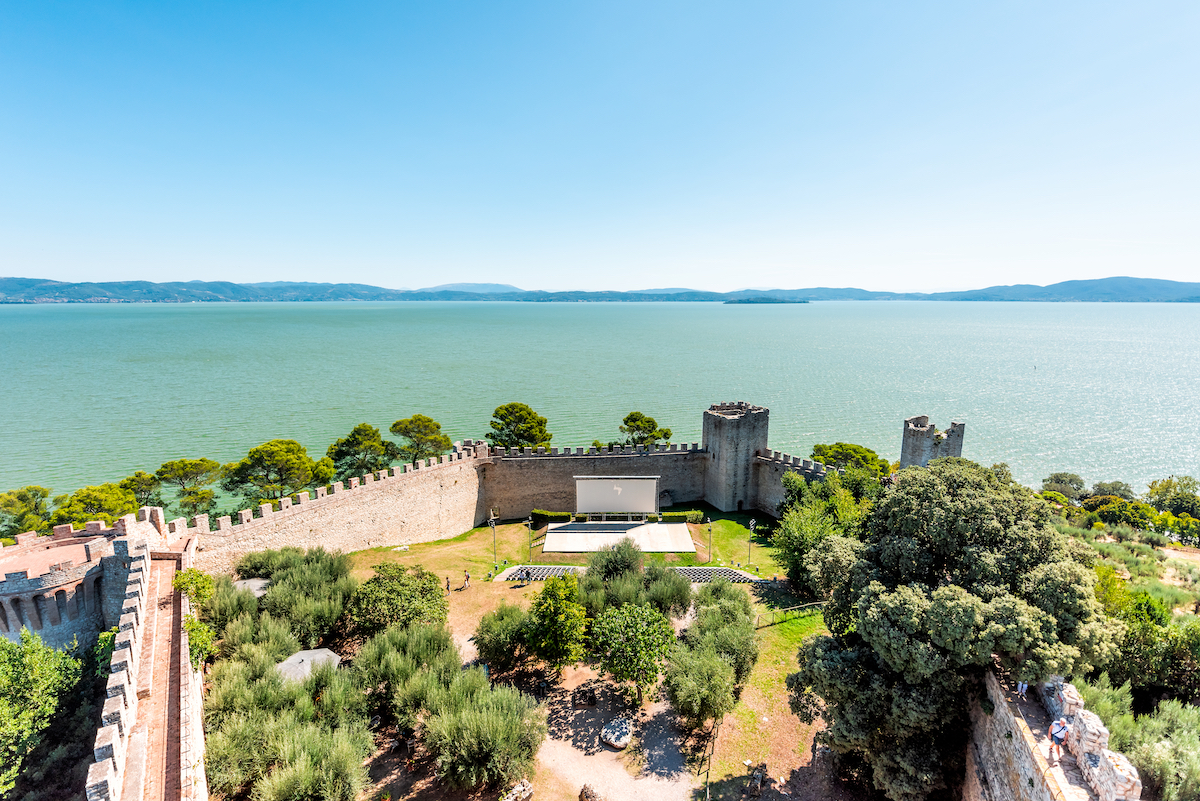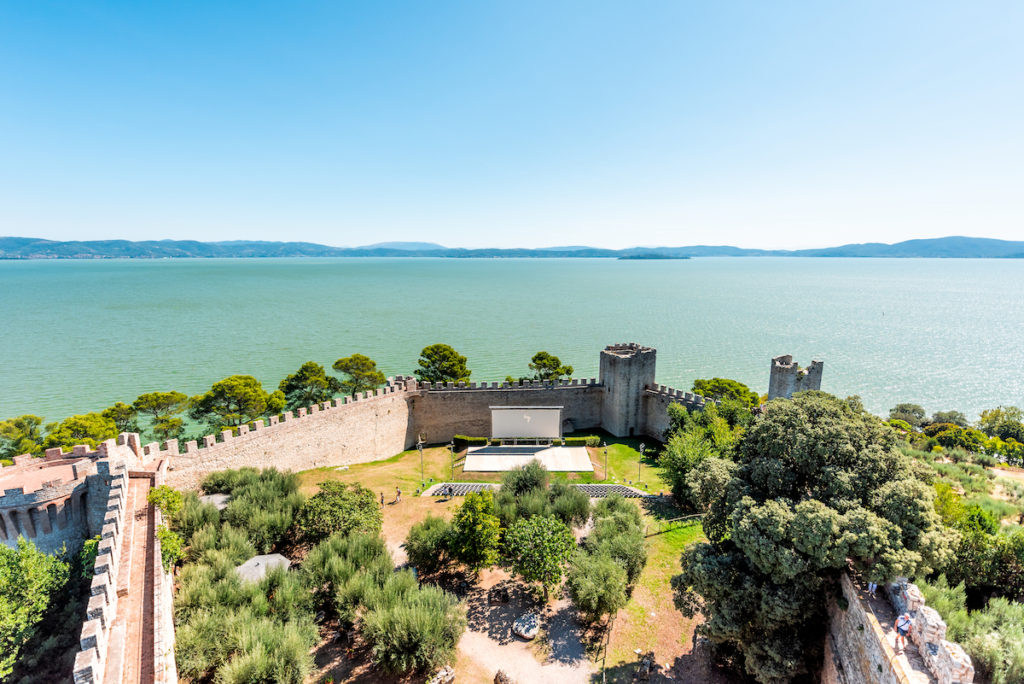 Eventually it was recovered by the popes, one of whom, Julius III, gave it to his sister. In 1550, her son, the celebrated condottiero Ascanio della Corgna and husband of Giovanna Baglioni, became the first in a series of dukes who ruled the lake as an independent duchy until 1648. In 1563, during this Ruritanian interlude, architect Vignola (or some say Galeazzo Alessi) designed the Palazzo della Corgna. The façade was never finished, but the piano nobile retains its fetching late Renaissance frescoes by Pomarancio; one shows the Battle of Trasimeno, and others the Deeds of Ascanio including the Battle of Lepanto, in which Ascanio distinguished himself and a famous duel – he was so renowned a swordsman that crowds came to watch him fight.
Getting to Lake Trasimeno
By train
Castiglione del Lago is a stop on Florence–Rome line, but not for the fast trains; you can also change at Terontola for Perugia, with trains calling at the north shore towns of Tuoro and Passignano.
By bus
BusItalia runs services around the north shore (Perugia–San Feliciano–Magione–Passignano–Tuoro) and around the southern shore (Perugia–Magione–Sant'Arcangelo–Panicarola–Castiglione del Lago).
By boat
BusItalia runs the lake ferries, departing every 40 mins to Isola Polvese from San Feliciano (€4.20, return €6) between 09.00 and 19.00 with a break for lunch (on summer weekends the service is extended until 23.40) and less often from Castiglione (€5.40, €10 return). Ferries from Tuoro (€4.90, return €8) sail to Isola Maggiore and on to Passignano (€5.50, return €8.80) at least five times a day; they also sail to Isola Maggiore from Castiglione (€5.50, return €8) in season.