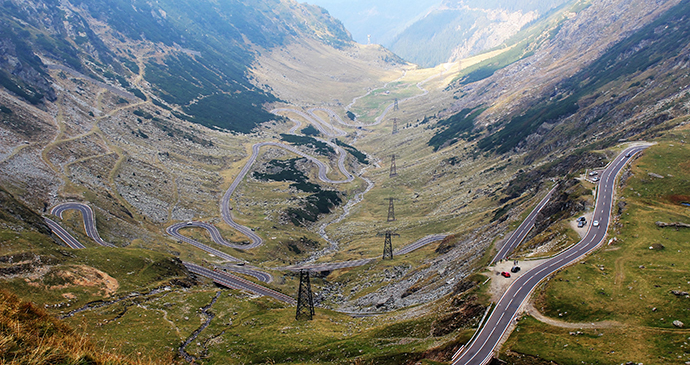 The Transfăgăraşan Highway offers spectacular driving amid dramatic scenery © Paul Brummell
Whether you're on two wheels or four, the second-highest road in Europe is a spectacular route.
Route DN7C runs north–south for some 90km, from a junction with the E68 Sibiu–Braşov highway in Transylvania, southwards to a village named Bascov near the city of Piteşti in Wallachia. Climbing to a height of some 2,042m, it is the second-highest paved road in Romania after the Transalpina, and makes for a spectacular drive. Its international fame was boosted by a 2009 episode of the BBC TV series Top Gear, when the host Jeremy Clarkson enthusiastically pronounced it 'the best road in the world'.
Both because of the spectacular nature of the scenery and the challenging features of the road, with its numerous hairpin turns and steep ascents, conquering the Transfăgărăşan has become a target not just for drivers and motorcyclists, but is also a frequent component of charitable cycling challenges, and you may even see people attempting the climb using even more difficult means of transport, like roller skis.
Note that the highway is only open during late summer. The most mountainous central section between Bâlea Cascadă in Sibiu County and Piscu Negru in Argeş County, Wallachia, is typically shut between 1 November and 30 June, but these dates are subject to modification based on the weather conditions, and if you are intending to drive the route close to its usual closure times, you should check before you set out that the road is open with the Dispeceratul Drumuri Naţionale.