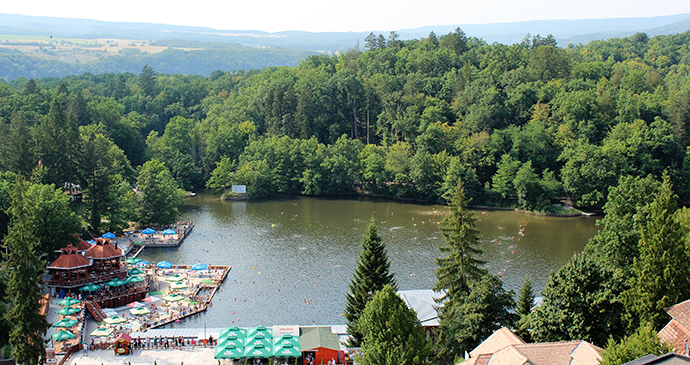 The resort centres around Lacul Ursu © Paul Brummell
The town of Sovata (HU: Szováta) and adjacent resort of Sovata-Băi (HU: Szovátafürdő) are located in a beautiful wooded valley in a salt-rich region known as the Ţara Sarelui/Sóvidék (Salt Country). Sovata-Băi was a popular spa resort in the late 19th and early 20th centuries and, unlike some other Romanian spas, has seen considerable investment following the collapse of the Communist regime, even if some of its places to stay are rather spartan. Today the resort is a mix of attractive wooden-walled villas with little spires and large Communist-era hotel complexes that have undergone various degrees of refurbishment.
The resort centres on the salty waters of Lacul Ursu (Bear Lake), which gets packed out at the height of summer, mostly with Hungarian and domestic tourists. Lacul Ursu is apparently the largest heliothermal salt lake in Europe; its particularly strong heliothermal properties arising because of a rain-fed less salty stratum overlying the saltier waters below, which helps to trap solar energy in the latter. Indeed, the 2-hour pause in the middle of the day when swimming is not allowed is not an example of poor tourism planning but is scheduled in order to preserve the heliothermal properties of the water.
It sits within the 79ha Bear Lake Nature Reserve (Rezervaţia Naturală Lacul Ursu) which houses several smaller salt lakes: Aluniş (Hazelwood), Mierlei (Blackbird), Roşu (Red) and Verde (Green). There is also the freshwater Lacul Paraschiva, and the rock salt mound just beyond Red Lake known as Muntele de Sare. There are many footpaths and marked trails around the lakes, which make for pleasant walks.