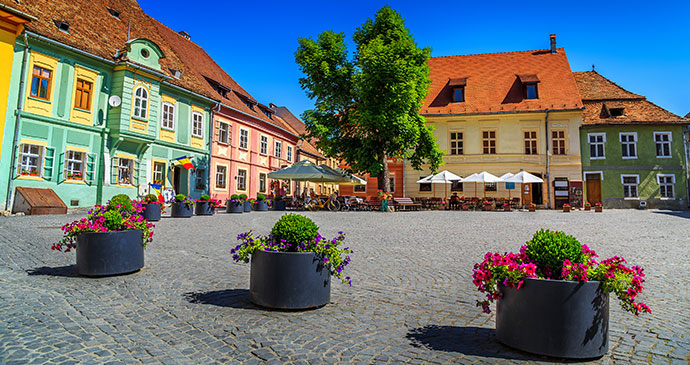 Sighişoara is the archetypal Transylvanian town © Gaspar Janos, Shutterstock
Sighişoara is a UNESCO World Heritage-listed medieval citadel and the birthplace of Vlad the Impaler.
Situated 55km southwest of Târgu Mureş, Sighişoara (Segesvár/Schassburg) is the archetypal Transylvanian town, just how we imagine it. The 12th-century Saxon citadel town does not disappoint and everything looks like a Dracula film set, from the dusty lower town to the steep climb up to the citadel itself, adorned by a fairytale clock tower, the covered wooden steps up to the Gothic church on the hill and the ancient medieval houses lurching into narrow cobble-stoned streets.
Sighişoara has a great atmosphere that even the cheesy Dracula souvenir shops cannot diminish. The historic centre of the town is a UNESCO World Heritage Site and a miss-at-your-peril item on the Transylvanian tour agenda.
Walking through the ancient cobbled streets, sloping to the middle where ancient shallow drains ran, you can admire the crumbling burghers' houses in the walled citadel district, each one a little shabby with pastel green, custard or plum paint peeling from beneath the shuttered windows, but still evocative of a more magical time. The walls of the citadel include nine surviving towers, the most impressive being the Clock Tower (Turnul cu Ceas), once home to the city hall and whose spire dominates the Sighişoara skyline. Visitors reach the citadel's inner treasures through an arch in the tower, climbing up a steep, cobbled path.