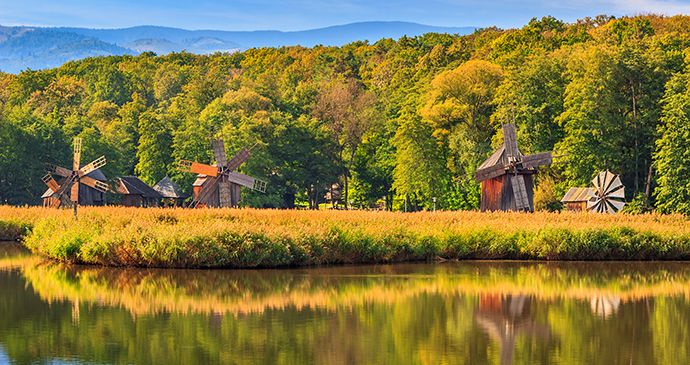 Sibiu's ASTRA complex is the best open-air museum in Transylvania © Gaspar Janos, Shutterstock
This beautifully preserved Saxon city has fine museums and a lively cultural calendar.
Sibiu (Nagyszeben/Hermannstadt) is one of the most visitor-friendly cities in Transylvania, and a great place to explore on foot. The old part of the city has two levels. The 'Upper Town' contains most of Sibiu's historic sites, which are handily located around three charming adjacent squares, Piaţa Mare (Great Square), Piaţa Mică (Little Square) and Piaţa Huet (Huet Square). The 'Lower Town' is an appealing tangle of old houses and cobbled streets. Connecting the Upper and Lower towns are dozens of tunnels, stairways and hidden passages, emerging suddenly into sun-drenched, pastel-painted squares, which are fun to explore. The city offers stretches of medieval walls, a Gothic cathedral and Baroque palaces, and has two important museum complexes: one a group of museums under the Brukenthal label, with the remarkable collections of an 18th-century Governor of Transylvania at its heart, and the second the ASTRA complex, the best open-air museum in Transylvania. Add to this a busy cultural calendar, including a theatre festival of European importance, an extensive range of accommodation options and some impressive restaurants, and it is easy to see why Sibiu is many people's favourite Transylvanian city, and a place that rewards an extended stay.