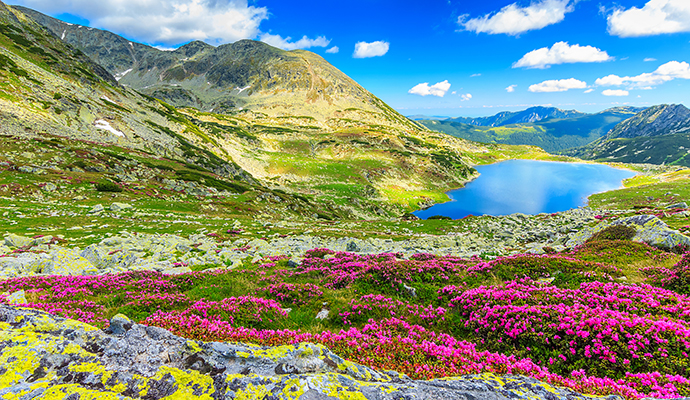 Retezat National Park is home to many colourful plants and glacial lakes © Gaspar Janos, Shutterstock

With its wild, rugged mountain scenery, this national park offers some of the most stunning hiking in Romania.
Established in 1935, Retezat is the oldest national park in Romania. The highest mountain range here is granite, with high peaks and glacial lakes. A more southerly range, known as the Little Retezat (Retezatul Mic), is limestone, its peaks slightly lower than those to the north, and its surface drier, with caves and deep valleys.
The highest point of the Retezat range, Peleaga Peak, rises to 2,509m, just 35m lower than Moldoveanu Peak in the Făgăraş Mountains, the highest point in Romania. The Retezat Mountains contain more than 20 peaks above 2,000m, more than any other range in Romania. The main range of the Retezat Mountains is also known for its chain of glacial cirque lakes. Lacul Bucura, at an altitude of 2,040m below Peleaga Peak, is the largest glacier lake in Romania, with a length of some 550m. And Lacul Zănoaga further west takes the title of Romania's deepest glacial lake, reaching a maximum depth of 29m.
There is a particularly rich flora in the natural park, with colourful plants to be found here including the glacier pink, yellow gentian, red vanilla orchid, edelweiss and globeflower. Animals found in the park include bears, wild boar, lynx, wolves and chamois. Farming communities on the edge of the park have land-use rights in the alpine pastures for their livestock. The area of the Gemenele Scientific Reserve within the park has a particularly high degree of protection: visitor access is controlled here and camping or the lighting of fires is not allowed within the scientific reserve.
The massif is crossed by marked trails, and offers fine panoramas of mountain peaks and glacier lakes, frequently enjoyed in solitude.