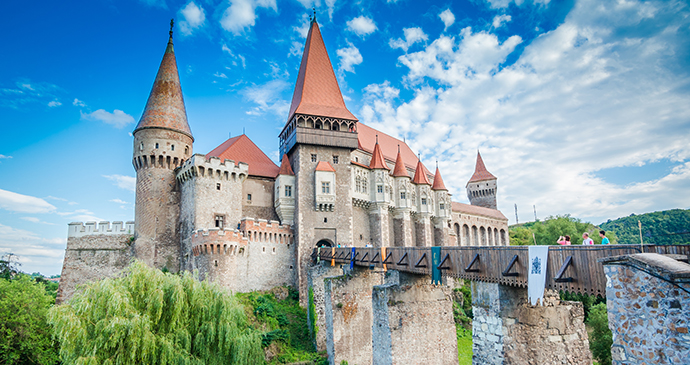 Corvin Castle is a truly magnificent sight © omihay, Shutterstock
With pointed turrets and towering buttresses, this fairytale fortress is a highlight of any trip to Transylvania.
A truly magnificent sight and a highlight of any trip to southwest Transylvania, first impressions of the Corvin Castle are magical, or perhaps more accurately fairytale, in character, from its dramatic approach over a wooden bridge across a deep gorge to the riot of square and circular towers, battlements and precipitous walls it offers. The great travel writer Patrick Leigh Fermor called it 'fantastic and theatrical' and 'at first glance, totally unreal'. It is outside the centre of town, but signposted.
The numerous rooms and towers of the castle are accessed from a central courtyard. Entering the castle on the wooden footbridge resting on a series of stone piers, you first reach the square-based New Gate Tower. There is the inevitable exhibition of instruments of torture here; a sign, entirely ignored, above the door declares that children below the age of 12 may not enter. Immediately to the south of this is the Palace of Festivities, which contains two large halls. That on the ground floor is known as the Knights Hall, with a row of octagonal columns through the centre. It was the assembly place of the military officers, and today holds an exhibition of arms and armour. Immediately above this, and similarly divided by a line of columns, is the vaulted Council Hall. In the Capistrano Tower nearby is a room with an impressive Gothic fireplace, said to have been the home of the Franciscan friar St John of Capistrano, a papal legate, who became known as 'the soldier saint' for his work alongside John Hunyadi in the defence of Belgrade, where, like Hunyadi, he succumbed to the plague.