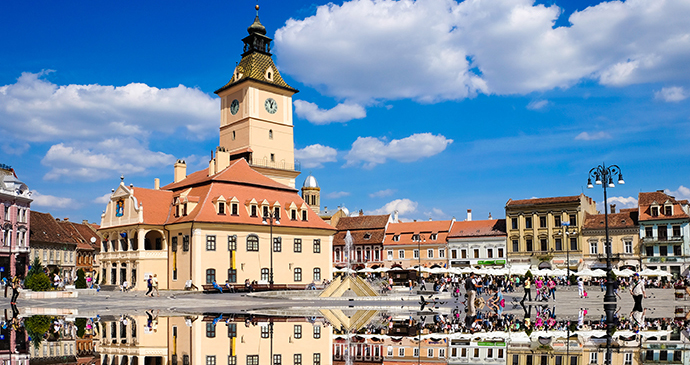 Braşov has a picture-postcard setting © Calin Stan, Shutterstock
Cobbled streets and medieval Saxon houses await in this southern gateway to Transylvania.
Braşov (Brassó/Kronstadt) is the seventh city of Romania and both one of the most important cities of Transylvania and one of the major tourist attractions of the region. It has a picture-postcard setting, in a basin guarded on three sides by Mount Tâmpa Hill, Dealul Cetăţii (Citadel Hill) and Warthe Hill, and is at the heart of the Bârsa Land region, named after a local river, settled by Germans in the 13th century. While the effects of 20th-century industrial development and urban sprawl mean some pretty ugly outer districts, the medieval core of the city is delightfully preserved. Piaţa Sfatului at its heart is one of the finest squares in Romania; the Black Church just off this is the largest Gothic church in the country. Other highlights of the city include exploring the towers and bastions of the medieval walls, the terrific views from the top of Mount Tâmpa, and some great bars and restaurants in picturesque settings along pedestrianised cobbled streets in the Old Town. Given the wealth of touristic attractions in the surrounding area, from UNESCO-listed fortified churches to the ski resort of Poiana Braşov to the fairytale Bran Castle, this is a city which rewards an extended stay.