One of the best things to do in Nafplio is simply to wander the streets and alleys of the old town, many of them no more than narrow stairways.
Nafplio is easily the prettiest large town in the Peloponnese, a fact not lost on the nearby Athenians who flock to visit on weekends and holidays – times when you'd be well advised to have a reservation if you want to stay here. It is well worth the effort as Nafplio is a delight, even when thronged with people.
Its faded, Neoclassical elegance has been updated over recent years with a layer of trendy chic (even the branch of the Goody's fast-food chain looks like a designer bar) and the shops, cafés and restaurants are up to Athenian standards (often with prices to match). This comes hand in hand with a beautiful setting, with the placid harbour set below two dramatic hilltop castles and lapping the shores of a third island-bound one.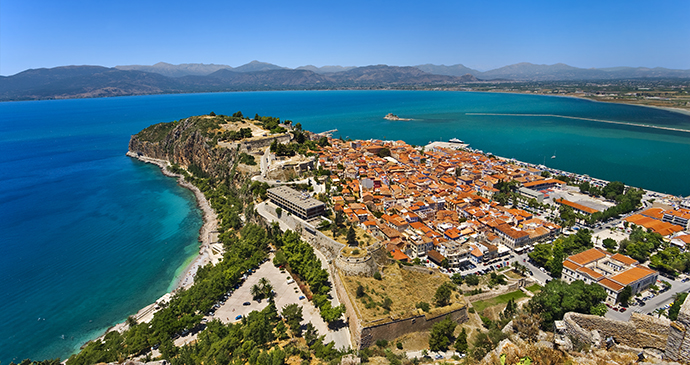 The old town is centred on the large, marble-paved Syntagma Square, ringed with cafés. At one end is the old town Arsenal, a handsome building that now houses a museum. At the other end is an old mosque, which now occasionally serves as a cinema. The surrounding streets are lined either with tavernas or shops; shopping is a serious business here, with designer names mixing with local artists and crafts.
The waterfront has lovely views over to Bourtzi Castle. The main harbour road, Bouboulinas, is named after Laskarina Bouboulinas, the famous female sea captain from the War of Independence, and there is a statue of her at its east end.
The castle of Akronafplia looms over the old town. There have been fortifications here going back at least to Classical times. Now it is the preserve of the Nafplia Palace hotel, who try their best to discourage outsiders from disturbing their exclusive guests. Fortunately there's not much to see, anyway. If you don't feel like walking up, a free lift connects the central waterfront to the fortifications around the Nafplia Palace hotel.