Above all, Monemvasia is for couples. It is still a place of beauty for those on their own, but if you are in love, you have found your Mecca.
It's impossible to avoid the hackneyed comparison between Monemvasia and Gibraltar, and it does bring up an image that is, in large part, accurate. Monemvasia is a great rock that rises up out of the sea, with only a thin connection to the mainland, but it doesn't convey the place's main feature, which is an enormous dollop of romance.
Above all Monemvasia is for couples: to wander, hand-in-hand, down the cobbled lanes; to browse the small boutiques in search of art or jewellery; to sip cocktails on terraced platforms above tiled roofs. It is still a place of beauty for those on their own, but if you are in love, you have found your Mecca.
Monemvasia is basically a Byzantine settlement, much like Mystra. The major difference is that it was never abandoned, and people still live here. Anywhere else this would have led to modernisation and the loss of the old town, but Monemvasia had one advantage going for it, and the clue is in the name: it means 'Single Entrance'.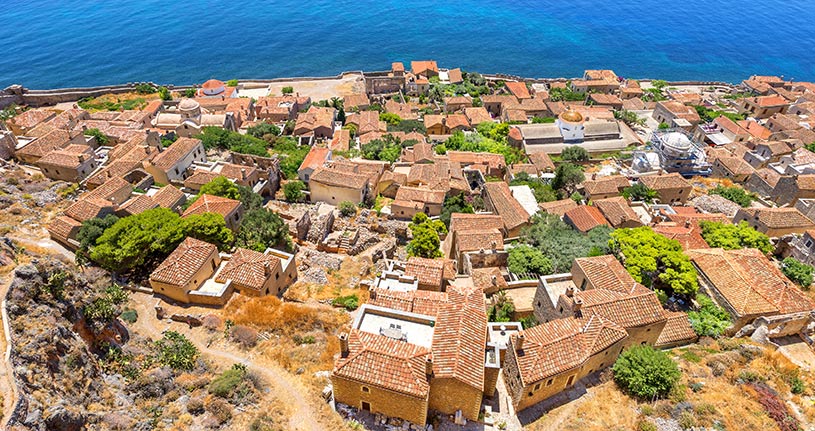 Like Mystra the town was surrounded by walls, and there is only one gateway that leads through them towards the causeway and the mainland. Crucially it was, and remains, too small for cars. The villagers probably cursed this, and many of them moved to Gefyra, the mainland settlement opposite the rock, but it meant that the old style of the town endured.
For a long while this historical survival was its main interest, but about 20 years ago people started noticing Monemvasia's other virtue: its breathtaking, heart-stopping, beauty. Fortunately the locals, and others who bought property, realised that they must preserve the nature of the place, and development has been careful and measured. Hotels are in well-restored old buildings, and the town has gained a reputation as an artists' colony. The atmosphere of the old town has actually benefited from this new lease of life, and as long as nothing bigger than a donkey can get in, it should long continue.