Brave the whitewater rapids of the River Lousios, said to be the coldest in the world.
The Lousios is said, by Pausanias, to be where Zeus was bathed as an infant (hence the name, which means 'Wash'). It is also said to be the coldest river in the world, which on a hot summer day is well worth checking.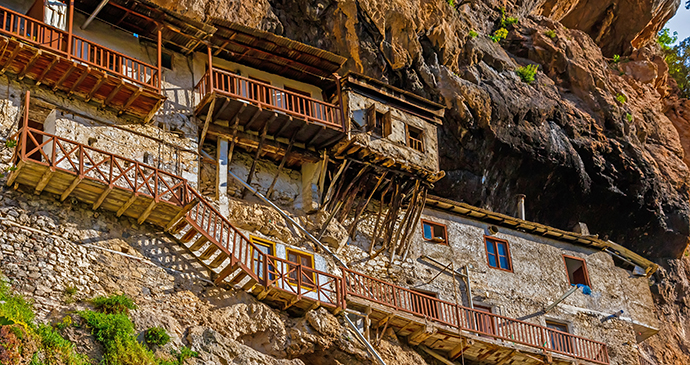 Sometimes also known as the Gortys, the Lousios is not a long river, beginning only 26km north of Karitena, near to which it merges with the Alphios. For almost all its length, however, it flows through an impressive gorge, with red limestone cliffs rising to 100m above the tumbling river, which is surrounded by prolific plant life even in the summer. Right up to the 20th century the river's power was harnessed by countless watermills, whilst the cliffs above provided the home to hermits and monks in caves and cliff-hugging monasteries, the latter of which are still inhabited. The gorge is becoming more accessible as the various dirt roads to its attractions are asphalted, but most of it is still only reachable by paths. Walking along these, with the clear waters of the river running beside you, it is easy to see what an Arcadian idyll really is.
Above the gorge are the two villages of Stemnitsa and Dimitsana, which are perhaps the most beautiful of all the Arcadian mountain settlements. Not so long ago these were rustic backwaters with basic, if any, accommodation. Now they have become trendy weekend getaways for Athenians, but with strictly enforced preservation orders they have lost none of their charm.