Kardamyli is delightful, and has one of the most perfect settings of any Greek village, with the towering Taygetos behind.
The road north from Stoupa swings downhill, past the village of Proastio with its church with a striking bell tower, and then straight into Kardamyli, the first of two Exo Mani villages that have devoted themselves to tourism (nearby Stoupa being the other). Despite this, and the main road running straight through the middle of it, Kardamyli is delightful, and has one of the most perfect settings of any Greek village, with the towering Taygetos behind – including a rare glimpse of the pyramid-shaped peak of Profitis Ilias, the range's highest.
The main activity in Kardamyli is enjoying the setting. The village itself is charming and worth a wander about. Its harbour to the south is overlooked by an old fortified custom house. Opposite is the small rocky island of Meropi, where a Venetian castle once stood. The stone chimney in the centre of the village belongs to the ruins of an olive-oil soap factory, once owned by Palmolive. Just to the north of town (take the road down by the church) is the long, pebbly beach of Ritsa, which never seems to feel too crowded.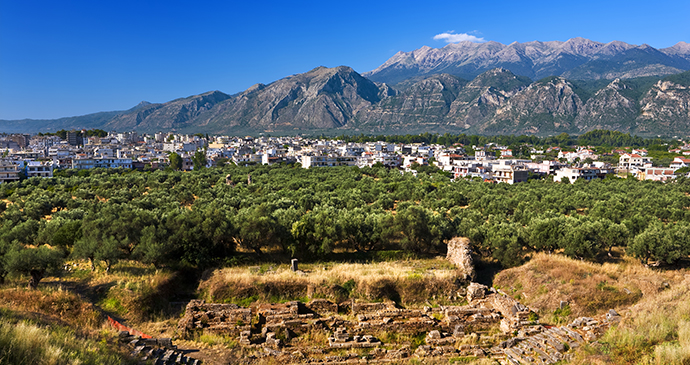 The village is used by many as a base for hiking in the Taygetos and there are many fantastic walks around, many using the old stone paths that used to link the villages (kalderimi). There are map boards and hiking trails around the village, but if you really want to explore it's best to invest in some maps and/or walking guides, all of which are available at the bookshop.
If you only have time to do one hike then the walk up to the villages above Kardamyli is the one to go for. A kalderimi leads from the back of the old town along the side of the Viros Gorge. It soon passes the so-called Tombs of the Dioscouri, the alleged burial spot of Castor and Pollux. The two rock-cut tombs are probably Mycenaean in origin.
A half-hour uphill finds you by the church and the outskirts of the village of Agia Sophia, where a path to the right takes you on, crossing a streambed after a while, and then to the outskirts of Petrovouni. The views from here back down to Kardamyli are more than worth the effort so far. Another kalderimi can take you straight back down from here, but it is worth continuing to Proastio. In spring you may well see orchids around here, and the village itself is lovely, stuffed to the gills with interesting churches. It also produces a locally famous rosé wine. A kalderimi leads from here down to Kalamitsi Bay, just to the south of Kardamyli.