Sitting in the quiet shade of the central tree in St Peter's Square, surrounded by historic buildings and with the only sound coming from the modern sculptural fountain, it is hard to believe one is in the centre of the country's largest city.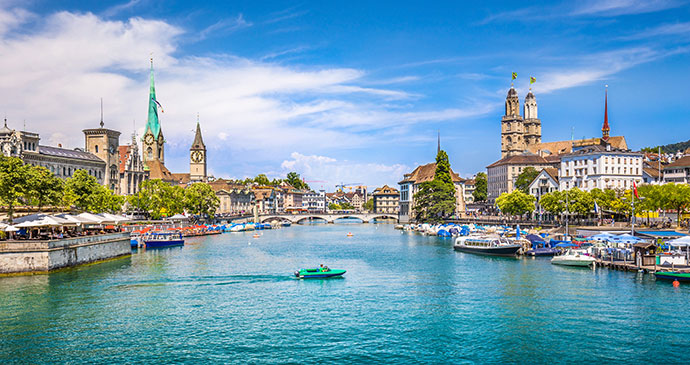 A river cruise along the Limmat is a great way to take in the sights of Zürich's old town © canadastock, Shutterstock
Switzerland's largest city has become a popular destination for weekend and longer breaks thanks to its famously vibrant culture and nightlife, with over 500 night spots, to match its international reputation as one of the world's foremost financial centres. For those who know the city, it comes as no surprise that Zürich consistently ranks first or second among world cities in the Mercer's Quality of Life Survey. With a delightful old town straddling the Limmat River, some most attractive streets of good shops, over 50 museums, 14 theatres, 51 cinemas, an opera house and many concert halls, the city has a great deal to offer the visitor.
The 21st century has seen the previously industrial area of Zürich West transformed with cafés, trendy shops such as Freitag at Geroldstrasse 17, and cultural venues, reached by a new tram route to Werdhölzli in the north from Albisgütli in the southwest. Nearby is Im Viadukt, a linear shopping district created along an attractive stone railway viaduct with shops selling designer clothes and funky accessories. An indoor market has 50 stalls selling produce from local farms, which provide ingredients for the city's restaurants. A flea market is held at Bürkliplatz on Saturdays in summer from 07.00.
The size of the city is modest (a population of 400,000), and the compact central area is easy to explore on foot. The region enjoys outstandingly good and well-integrated public transport, as well as facilities for cyclists and walkers. A measure of its efficiency is that 50% of commuters use public transport for their journeys to work, and another 12% cycle or walk, helping to make Zürich's air quality among the best in urban Europe.