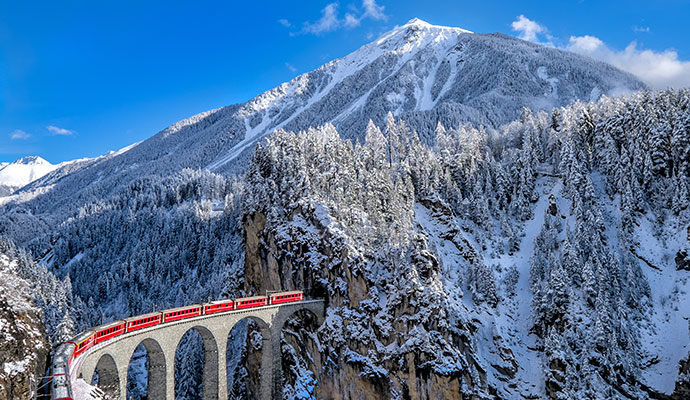 The popularity of the Glacier Express between Zermatt and St Moritz is wholly deserved, and a journey not to be missed © Alessandro Colle, Shutterstock
The author's take
Switzerland is synonymous with some of the most beautiful mountain landscapes on Earth. It is primarily to see sights such as the Jungfrau, Eiger and Matterhorn that over 9 million people a year visit Switzerland, with UK visitors second only to Germany. Tourism promotion is the catalyst for most visitors today, but curiously it was mainly the writings of poets and playwrights which encouraged the early tourists to visit the country – the third canto of Byron's Childe Harolde, Schiller's Wilhelm Tell and Rossini's opera based on it did more for Swiss tourism in the first half of the 19th century than any official promotion. This celebration of the country's natural beauty by writers and painters has, however, distorted the view of what Switzerland has to offer.
Because the landscape dominates most visitors' perceptions of the country, its architectural and cultural attractions have been relatively neglected. The principal art galleries, for example, have collections of paintings that would hold their own with most capital cities. The country has thousands of fine museums, castles, mansions and outstanding churches, as well as delightful vernacular buildings. The country's cities are a pleasure to visit, largely because the impact of motor traffic has been minimised. Mercer's 2016 Quality of Life Survey ranked the cities of Zürich and Geneva respectively as second and eighth. Zürich has been in first or second position for over 12 consecutive years. As the British/Swiss comedian Dom Joly put it, the country 'somehow enthuses one with a feeling everything is right with the world'. Urban graffiti apart, Switzerland is a neat and tidy land where everything works as it should and where, by and large, its people feel strongly about their patrimony and the quality of their environment. Inexplicably there are some who find this dull; others see in the Swiss the perfect combination of northern efficiency and southern vitality. A love of nature is deeply embedded in the national psyche, and many take every opportunity to enjoy it on foot or by bike. Ostentatious displays of wealth are widely regarded as vulgar.
Switzerland is a paradise for those who prefer peace and solitude to noise and crowds, although the larger cities have plenty of opportunities for those in search of lively and cutting-edge nightlife. Even in high summer it is easy to escape the throng on summits of mountains like Pilatus and the Stanserhorn by walking for just five minutes. Equally there are many relatively undiscovered places that would be major tourist attractions in countries less well endowed with natural beauty.
The author's story
The Lavaux Vineyard Terraces, stretching down to the shores of Lac Léman, have been designated a UNESCO World Heritage Site © Ivo Scholz, Switzerland Tourism
My love of Switzerland stems from childhood holidays. We went every third year and even then I was captivated by the sheer scale of the mountain landscapes in which we walked, as well as being enthralled by the character and number of mountain railways, cable cars and chairlifts – much more fun than motor cars.
Returning in my twenties, I realised that, quite apart from the fact that Switzerland has far more than its fair share of Europe's finest landscapes, the country is a paradigm for responsible tourism. Environmental considerations are generally to the fore in the planning and execution of any developments, and it has unquestionably the finest public transport system in the world.
Most mountain areas are thankfully roadless so a car is a pointless encumbrance. It's much better to rely on the Swiss Travel System and its range of passes, which are excellent value. Swiss precision applies to all forms of transport, which are admirably integrated and reliable. During research trips, I often took up to 25 separate journeys in a day, switching from train to bus to funicular to lake steamer, generally with connections of under ten or even five minutes. In many months of travel, I missed one connection.
My purpose was to encourage travellers to have a much more rewarding experience while minimising their footprint. Writers seldom receive feedback unless they commit a howler, but one day a letter in spidery handwriting arrived via the publisher. It was from a retired gentleman who said that he had never managed to persuade his wife to venture abroad; this book convinced her to give Switzerland a try, and since the first successful visit they had been going every year. No writer could ask for a better reward.