Admire the work that went into creating the Collegiate Library in the abbey of St Gallen, regarded as the country's most beautiful Rococo interior.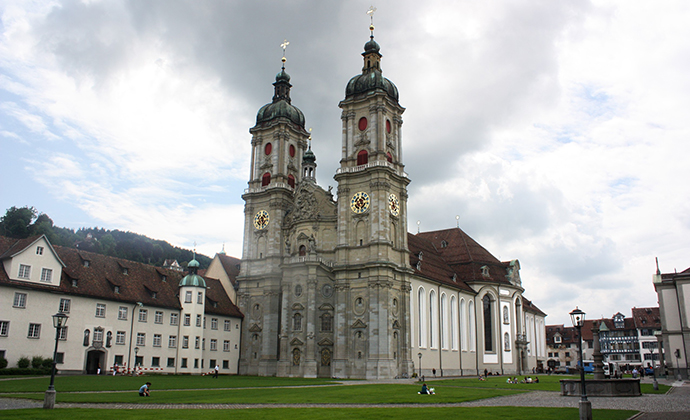 A rewarding hour or two can be spent ambling through the warren of narrow streets of St Gallen's old town © Dguendel, Wikimedia Commons
For anyone interested in architecture, St Gallen deserves at least a couple of days, with its old town and the cathedral with its magnificent library, ranked by UNESCO as a World Heritage Site. The capital of the eponymous canton, its name is derived from the Irish monk Gall or Gallus, a pioneer of Christianity in Switzerland, who built a hermitage c612 in the Steinach valley. Between 719 and 752, an abbey was built on the site of his cell and flourished to become one of the most important religious communities in the area. The Benedictine abbey was encircled by a wall following a Hungarian invasion in 926, and by the second half of the 12th century markets were being held within it. The town's prosperity was founded on the linen and later cotton industries, its allegiance to the abbot ending in 1454 when St Gallen joined the Swiss Confederation. The Reformation was brought to the town in 1524 by its mayor and great scholar, Vadian, whose statue, recalling the appearance of Henry VIII, dominates the junction of Marktgasse and Neugasse. The town wall was removed in the early 19th century, and the monastery was dissolved in 1805, becoming the cathedral of the new diocese of St Gallen in 1847.