Hike to the Creux du Van, an immense limestone cirque 305m (1,000 ft) deep, on a delightful walk through the Jura Mountains.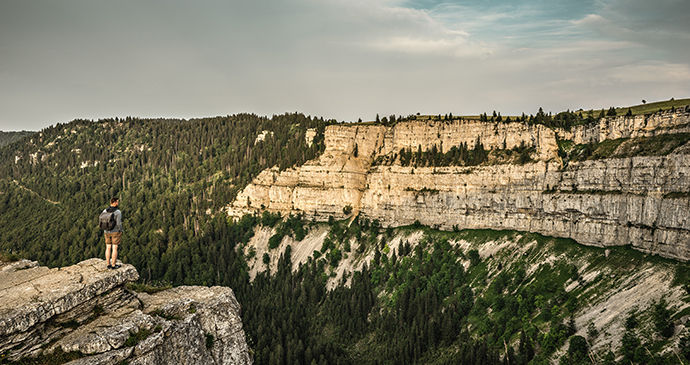 The views down the valley, circled by a cycle route or footpath, make this one of our favourite walks in Switzerland © Ivo Scholz, Switzerland Tourism
The lovely valley of the River l'Areuse has several sites of cultural and scenic interest, offering good walks and cycling routes. Heading west out of Neuchâtel, beyond Bôle the railway line enters a steeply sided valley with impressive views of mountains to the left.
The valley opens out before Noiraigue, from where it is only a short walk to the Creux du Van. This extraordinary bowl, forming a natural amphitheatre in the mountains, should not be missed; its scale and the views over the surrounding countryside are stupendous, and it has been described as the most impressive feature of its kind in Europe. It is also the highest of the Jura peaks in the area, at 1,465m (4,806ft), and has a nature reserve for roe deer and chamois.