Walk in Byron's footsteps at Chillon Castle, which dates largely from the mid-13th century and was made famous by his poem, The Prisoner of Chillon.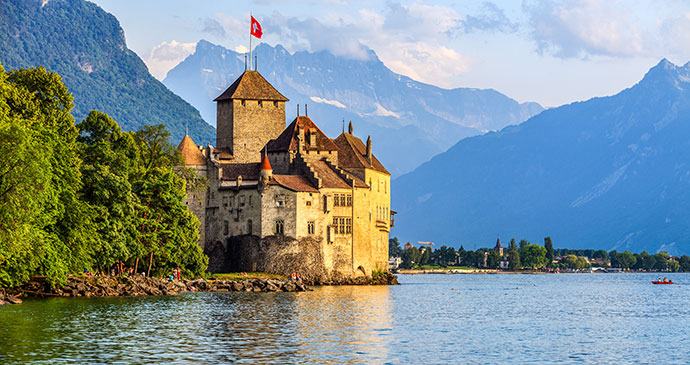 Arguably Switzerland's best-known building – the Castle of Chillon – is a short walk from Montreux © FenlioQ, Shutterstock
Even if Byron had not written The Prisoner of Chillon, the castle would still be the outstanding attraction it has become; not only is its position on a peninsula strikingly picturesque, but it is one of Europe's best-preserved examples of medieval military architecture. The rock on which it is built has supported a settlement since the Bronze Age, the Romans fortified it, and the defences were developed in the 9th century. The present castle was begun in the mid 13th century by Peter II of Savoy (London's Savoy Hotel takes its name from him), who employed the military architect Pierre Mainier to create strong defences on the side of the road and mountain with the residential parts overlooking the lake.
There is an excellent English-language guide to the castle which has 28 rooms and areas open to visitors, with a fine banqueting hall and collection of armour. The castle can be very crowded in summer, but it is justly popular. The best viewpoint of the castle was probably from the lake until marred by one of the country's most insensitively sited motorways (regrettably it is not without serious competition), which rises on piers out of the wood behind the castle. There is a landing stage by the castle for lake steamers.