Wander the largely pedestrianised streets of Bern's old town, a UNESCO World Heritage Site, home to 6km of arcades.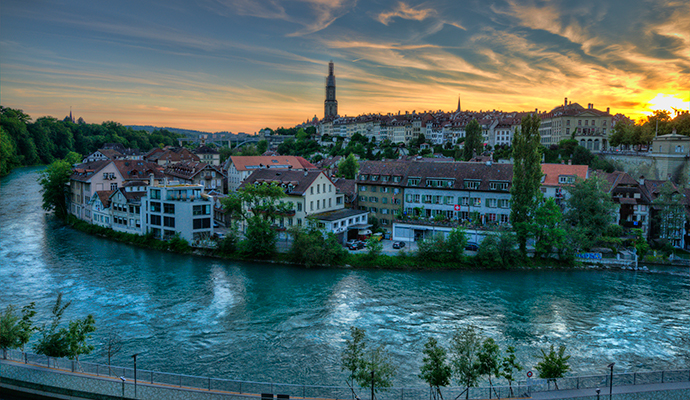 Visitors can climb the 344 steps of Bern Minster's tower to get magnificent views over the Old Town and rest of the city © chensiyuan, Wikimedia Commons
Although Bern has been the capital of the Swiss Confederation since 1848, it is only the fourth-largest city, after Zürich, Basel and Geneva, with a population of 134,000. Few cities in Europe can rival Bern for the way that it has kept its medieval centre intact; UNESCO has recognised this and placed the city on its list of World Heritage Sites, on a par with the centres of Rome, Florence and Havana. It is renowned for its fountains, towers and bridges, the profusion of geranium-filled windowboxes and the 6km (4 miles) of arcades, the Lauben, that line many of the streets of greenish-grey sandstone buildings.
Its position on a high peninsula in a meander of the River Aare was chosen by Berchtold V, Duke of Zähringen, for its easily defensible location. Although he was certainly the city's founder, there was already a small settlement in existence by c1155, clustered around Nydegg Castle at the eastern end of the peninsula. Legend has it that the name came from Berchtold saying that the new settlement would have the name of the first wild animal caught on the peninsula. Whatever the validity of the story about the ensuing hunt, the bear has been the city's emblem since at least 1224, when it was used on the city's seal. It also gave rise to the tradition of keeping bears in the former moats from at least 1480 to 1857, when they were moved to the current bear pits beside the River Aare close to the Nydegg Bridge.
Thanks partly to its modest size and partly to the confined location of the old town, Bern is a city that can be properly explored on foot or by bicycle.