Bellinzona was developed from Roman times thanks to its strategic position at the entrance to three passes – Gotthard, Lukmanier and San Bernardino. To reach the tourist office from the station, turn left along Viale Stazione to arcaded Piazza Nosetto on which the office may be found. This, with the adjacent Piazza Collegiata, is the heart of the old town in which a colourful market is held on Saturday mornings. The latter takes its name from the large collegiate church of Santi Pietro e Stefano, a much-rebuilt largely Renaissance church which has elaborate 17th–18th-century stucco.
Beside the church is a pedestrian alley that climbs the hill to one of Bellinzona's three castles, all of which have survived largely intact and which constitute some of Switzerland's most dramatic military buildings. Their importance is reflected in the three being a World Heritage Site. The three are also known by the names of the three cantons which prosecuted the policy of bringing the canton under Swiss hegemony and which installed their bailiffs in them.
Castello di Montebello
The Castello di Montebello (Castle of Schwyz) was begun at the end of the 13th century and progressively enlarged to consist of two multi-towered curtain walls surrounding a rectangular five-storey keep and a gate-tower.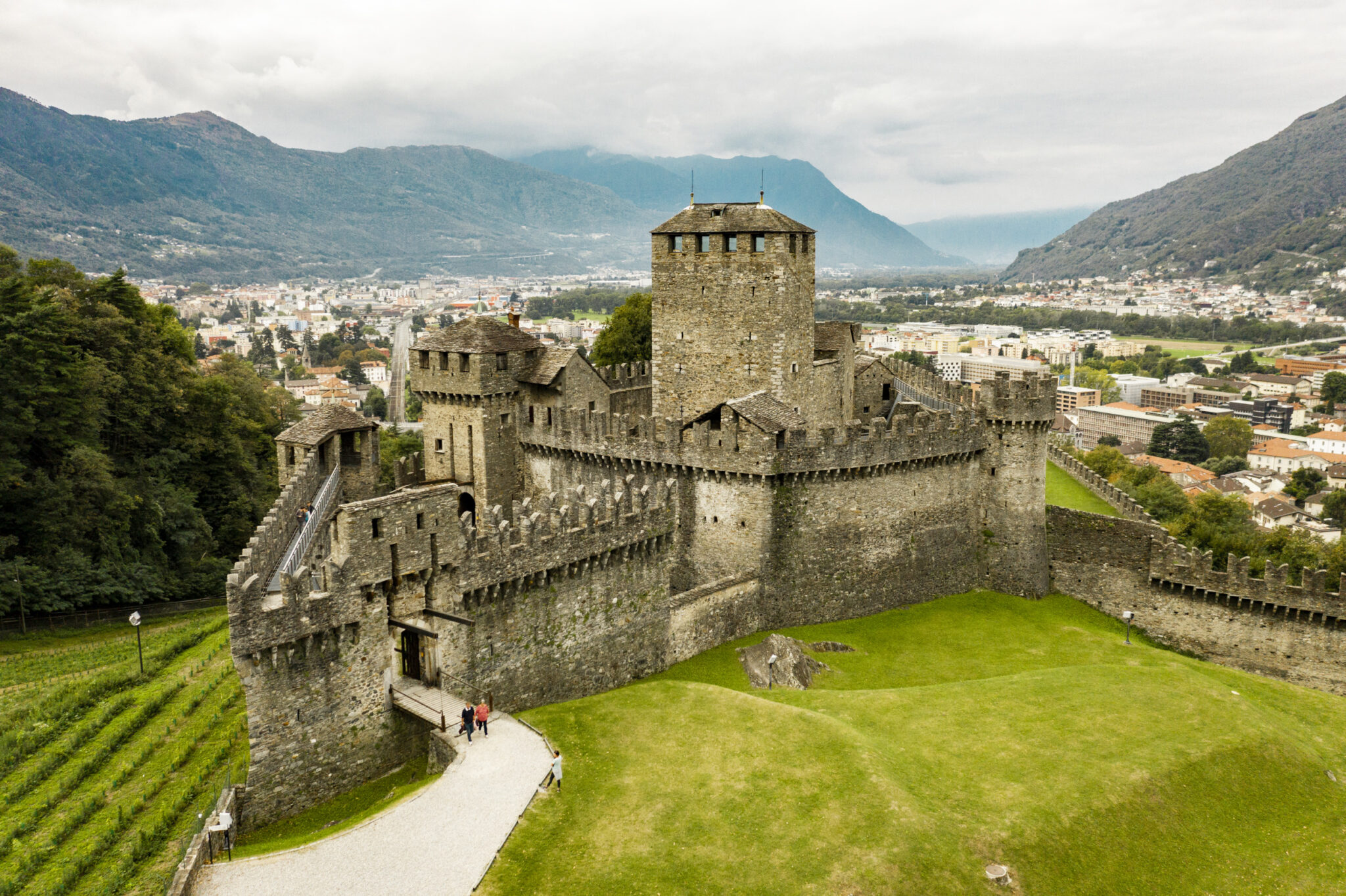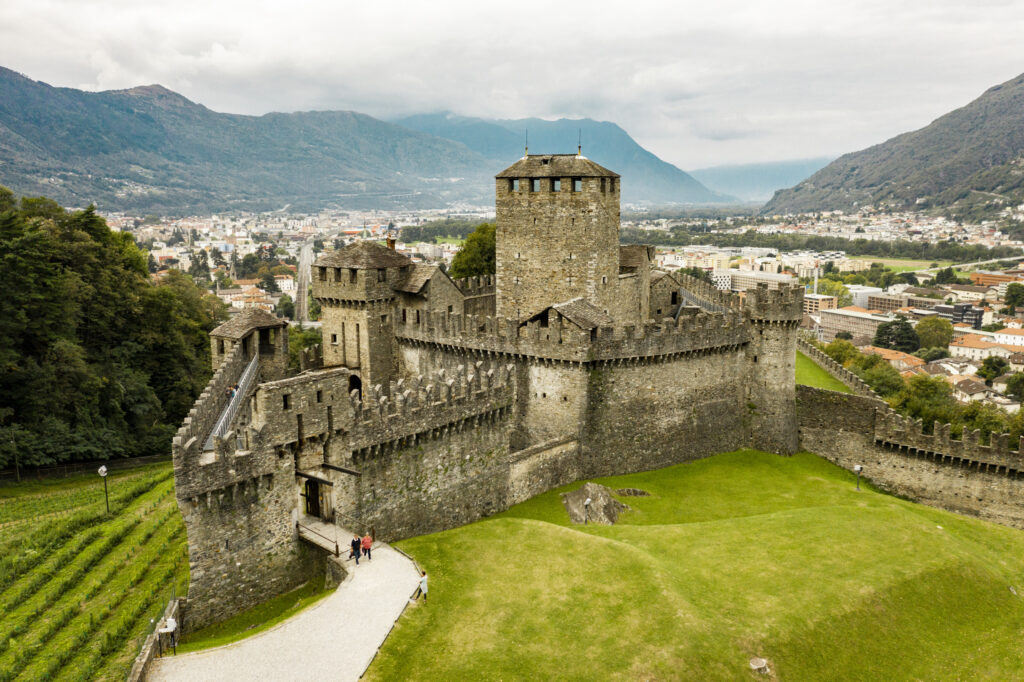 The fortress's slender and uniform machicolations belie the different building periods. It houses the Civic Museum of archaeological and historical artefacts. One ticket (the Bellinzona Pass) covers all three castles and the Villa dei Cedri civic museum.
Castelgrande
On the other side of Piazza Collegiata is Castelgrande (Castle of Uri), the oldest and largest of the three, dating from the 12th century. The castle is dominated by two tall 13th-century towers, one a keep, the other residential. The museum is devoted to interpreting the site through the 6,500 years of its occupation, from Neolithic times to the present.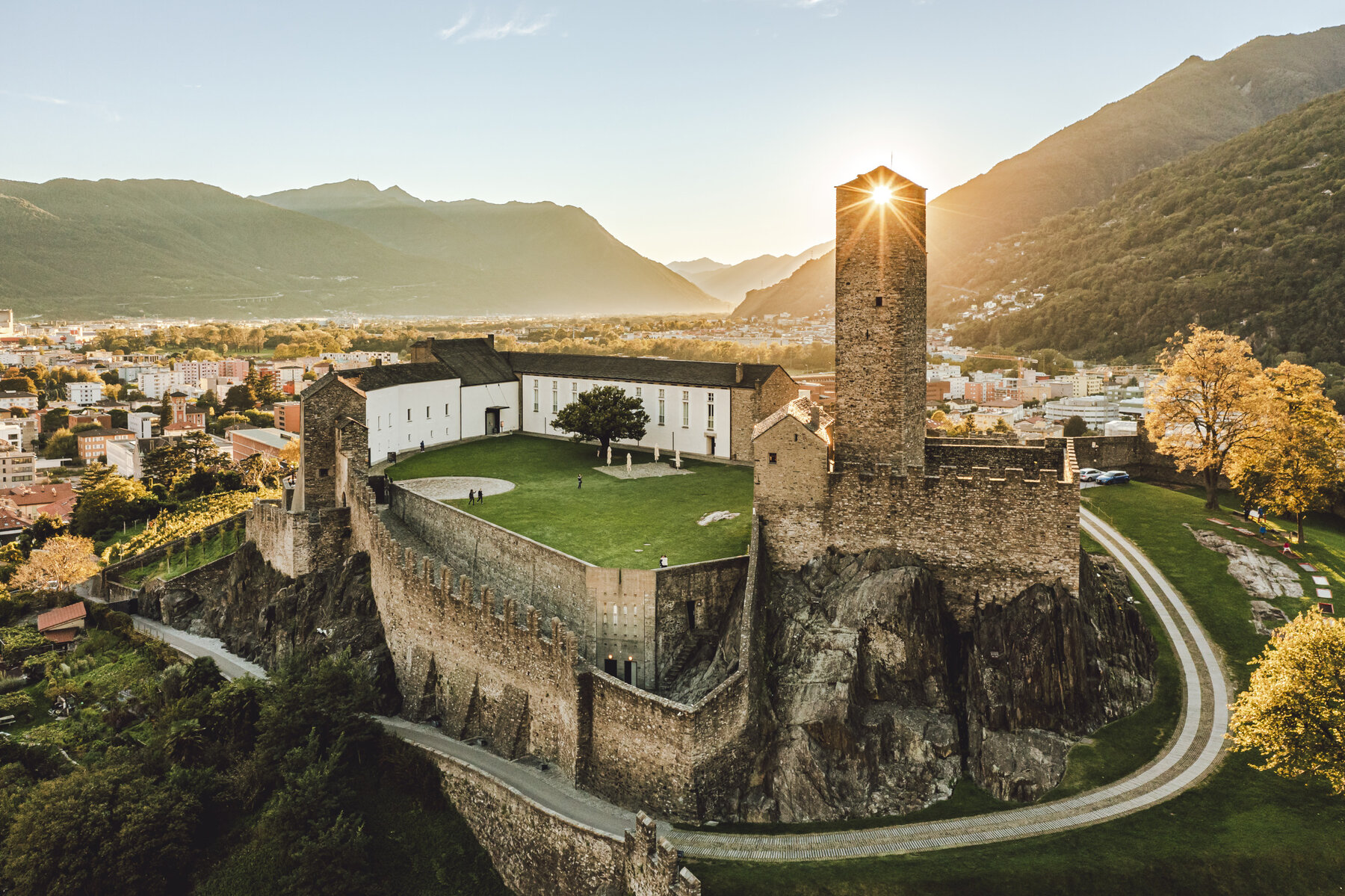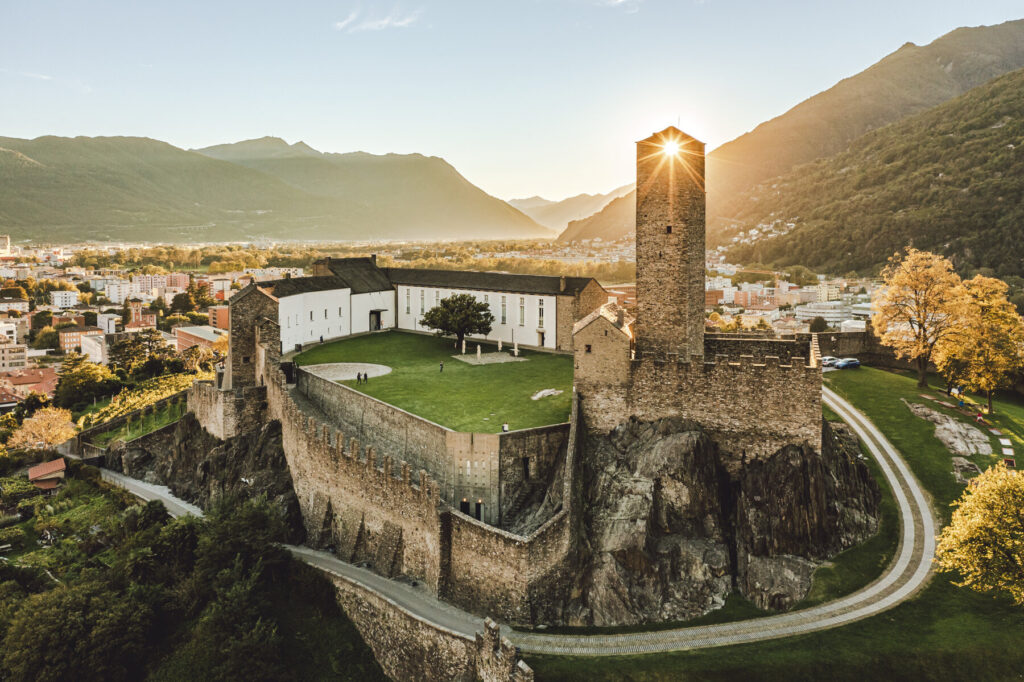 It has a restaurant reached by a lift shaft through the rock as well as by steps. One of its walls was built to close off the valley, being crenellated on both sides and the wall 'walk' wide enough for four horses to ride abreast.
Castello di Sasso Corbaro
The third castle, Castello di Sasso Corbaro (Castle of Unterwalden), lies outside the old town and is approached by a winding road leading to its two working drawbridges. The castle is reputed to have been built in just six months by Sforzas following the defeat of Milanese troops at Giornico.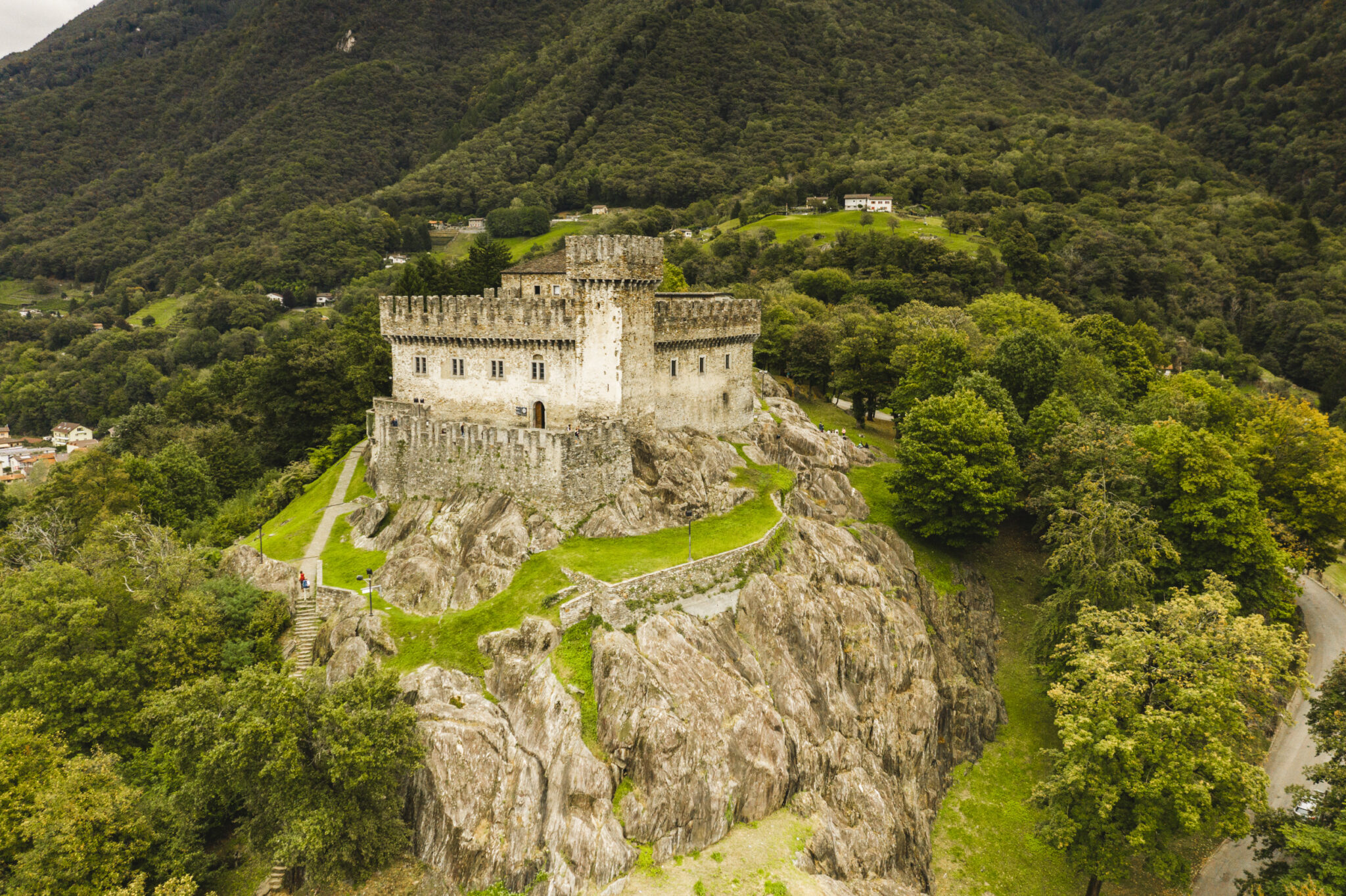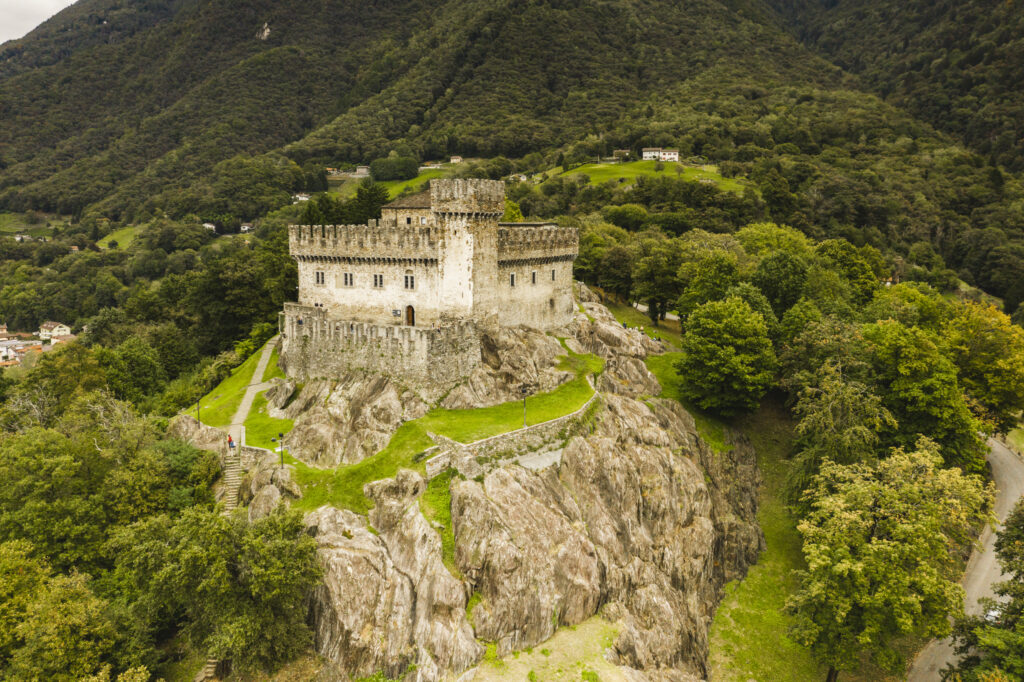 Some walls are 4.7m thick. In the castle is a museum of folk art, including a beautiful 17th-century panelled room with stove from a house at Olivone in the Blenio Valley.