The medium-sized Serbian town of Vršac lies out on a limb in the southeast Banat and is not a place you would pass through unless you were heading for Timişoara in Romania. This is a pity as it has a fair amount to offer and is worth considering as an excursion in its own right. Although there are adequate places to stay, it is possible to visit the town as a lengthy day trip from Belgrade.
What to see and do in Vršac
While there are a few specific sights well worth seeking out, much of the charm of the town lies in its domestic architecture as, unusual for Serbia, there are whole streets that have changed little in 200 years. One such street is Jaše Tomića, which runs east–west across Dvorska, the high street at the bottom end of Trg Svetog Teodora Vršačkog. There is an impressive row of period houses in the Vojvodina style running along here, in particular numbers 30/30a next to Dom Omladine, and the bright yellow residence a little further along that is dated 1608.
Dvorska is also the location for the Palace of the Bishop of Banat (Vladičanski dvor), a large yellow Baroque building with a shiny green-glazed tiled roof that dates originally from 1759 but which was later rebuilt. On the other side of the street is the Orthodox Cathedral of St Nicholas (Saborna crkva Svetog Nikole), built 1783–85, with paintings by Paja Jovanović and an iconostasis that was originally painted by Pavle Đurković but which has since had most of its panels clumsily restored.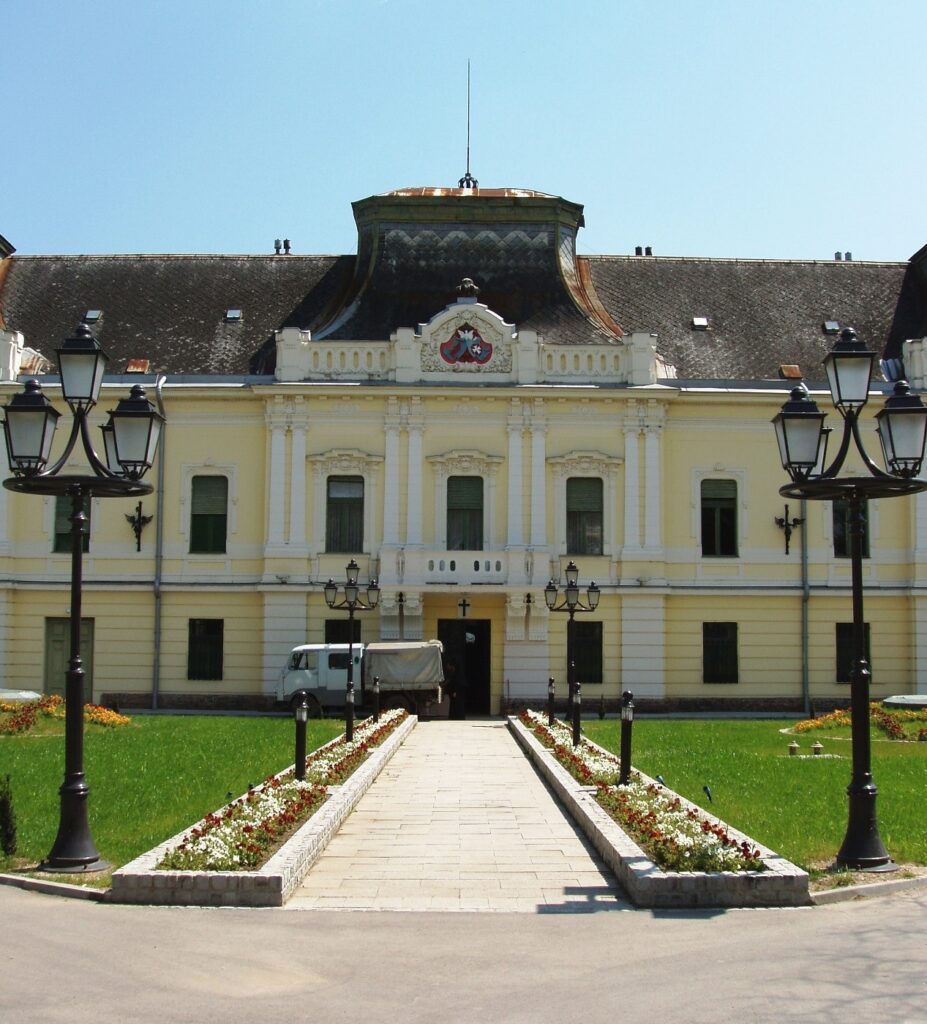 Nearby, just to the north of Trg Pobede and on the corner of Kumanovska and Stevana Nemanje, is the Pharmacy on the Steps Museum, with the entrance on steps above the street, as the name implies. This was the town's first pharmacy, opened in 1784 and operational until 1965 when it became a museum. There are two exhibitions on display here: one concerning medicine and another dedicated to the work of the artist Paja Jovanović, whose brother worked here. Visits may be pre-booked by phone or prearranged at the town museum. Just around the corner, where Dositejeva meets Stevana Nemanje, is a rather curious Romanian neo-Gothic church with red and yellow brickwork, a cupola and a tower inlaid with the ceramic images of saints.
Clearly visible from anywhere in town is Kula breg, a 15th-century defensive tower that surveys the plains from its 400m vantage point on a round volcanic hill immediately above Vršac. Although close scrutiny does not reveal very much more about the site, it is as good a destination as any for a walk outside the town. apela breg, also known as the Chapel of the Holy Cross, is the oldest church in Vršac, constructed between 1720 and 1728. In 1739, it became dedicated to St Rok, the protector from plague (there was an outbreak of plague in the town during that same year).
Just above here is the main road and, on the other side of it, a meadow with a noticeboard, picnic tables and small amphitheatre. The larger Church of St Teodor (Crkva Svetog Teodora Vršačkog), also visible from the town, is just off the road to the left down a track. There is a car park area to the left of the road and a rustic café-restaurant with a garden next to it.
Getting to Vršac
More or less hourly buses run every day between Belgrade and Vršac, as well as others to Novi Sad and Niš via Bela Crkva and Smederevo. Six daily buses run to nearby Bela Crkva, and there is a single early morning service to Kikinda.
On schooldays, there are four buses each day to Vatin via Mali Žam that pass right by, but not over, the Romanian border – a possible route to Timişoara, as the Romanian town of Moravita lies a couple of kilometres beyond and there is onward transport from there. The bus station is a flat, 20-minute walk northwest from the town centre along Miloša Obilića.