Author's take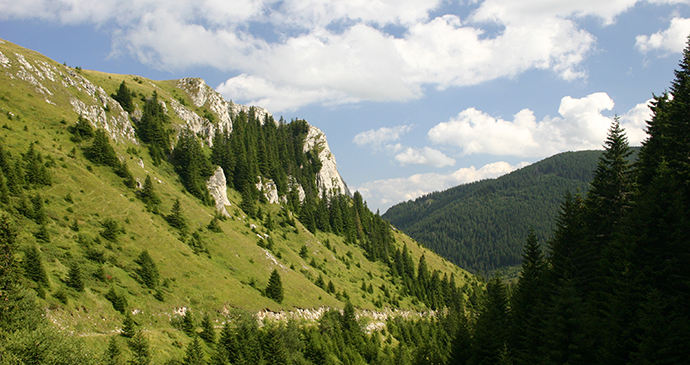 The flora of Kopaonik is particularly rich, with numerous species of tree, fern, moss and herbaceous plant © D.Bosnic, National Tourism Organisation Serbia
Belgrade's thriving nightlife and vibrant café culture has become well known in recent years but most visitors do not bargain for such a welcoming reception nor expect to find such attractive countryside.
It is over 12 years since the publication of the first edition of Bradt's guide to Serbia and much has changed in the country during that time. Back in 2005, the country was still officially part of a federation with Montenegro, a neighbour that went its own way in 2006. This was the last of several breakaways from the country that used to be known as Yugoslavia, after Slovenia, Croatia, Bosnia and Herzegovina and Macedonia had all chosen to declare their independence in the 1990s. Serbia's final territorial blow – long anticipated but painful nevertheless – came in 2008 when Kosovo unilaterally declared independence.
In just a few short years, the country has lost both a federal partner and a former territory. Given this, you might assume that Serbia's appeal as a tourist destination has made little progress since. You would be quite wrong. The country has, in fact, become increasingly tourist-friendly over the past few years, not that it was 'unfriendly' in the first place. New signs in English have gone up all over Belgrade and the main cities to point the way to the main sites of interest; tourist offices have opened their doors around the country to dispense information and friendly advice; new hotels have been built, old ones have been restored and refurbished, and there have also been exciting initiatives for village tourism, vineyard tours and long-distance cycling routes. At last, you feel that Serbia is no longer selling itself short and that there is a new enthusiasm for welcoming foreign visitors alongside a national pride in showing what the country has to offer.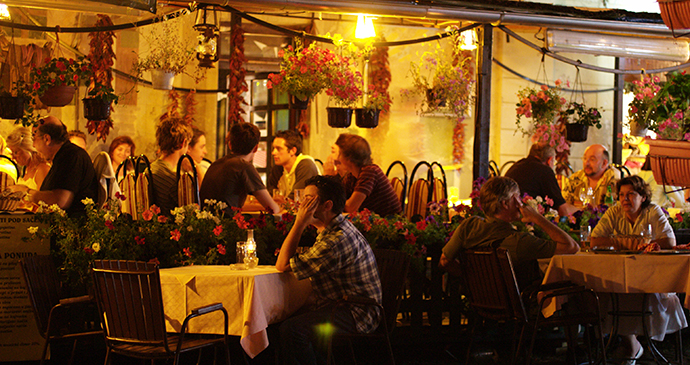 Restaurants serving traditional Serbian cuisine on Belgrade's Skadarlija offer visitors a good night out © B. Jovanovic, Archive National Tourism Organisation Serbia
Tourism has been a slow burn since the cessation of hostilities at the turn of the millennium. At the beginning there was just a trickle of adventurous types, but word has slowly started to spread that Serbia is a destination well worth visiting. Over the past few years, more and more foreign visitors have come for the EXIT festival, held in July each year at Novi Sad, as well as to the frenetic beer-swilling brass-band fest at Guča in August. Most have gone away suitably impressed and surprised by what they found. Belgrade's thriving nightlife and vibrant café culture has also become well known in recent years but most visitors do not bargain for such a welcoming reception nor expect to find such attractive countryside. What also comes as a surprise is the sheer variety of landscapes in what is a relatively small country. The flat northern plains of Vojvodina could hardly be a greater contrast to the lofty Kopaonik plateau in the south or the mountainous forests of Tara in the west.
With a long and colourful history that stretches back as far as the early medieval period, and indeed to the Roman occupation long before that, Serbian culture is rich and varied: a unique hybrid that is westward-looking but with echoes of an Ottoman past. The long period of Turkish rule has left its mark on the food, music and language of the country, as have influences from Austria and Hungary to the north. While a Habsburg city like Novi Sad, a place resolutely part of the central European milieu, lies just an hour's drive north of Belgrade, travelling to the south of the country brings the visitor to very different places like Novi Pazar, where the Turkish influence remains strong and the skyline bristles with minarets.
Belgrade itself, the largest city in the region, may not be the most elegant of capitals, but it has a vitality undiminished by its years of isolation. These days, it is a vibrant, sophisticated city where tradition and modernity comfortably coexist – a dynamic capital with museums, galleries and nightlife equal to anywhere in the region. Smaller university cities like Novi Sad and Niš have their own individual appeal too, as do many of Serbia's smaller country towns. In a landscape punctuated by river valleys, gorges and rolling hills, nature lovers are well provided for. National parks such as Mount Tara in the west, Fruška Gora in the north and Đerdap Gorge in the east are ideally situated for outdoor activities such as hiking, cycling and birdwatching, while Zlatibor and the southern mountain resort of Kopaonik offer winter skiing.
Thankfully, Serbia's bad-boy image and demonised reputation are now seen as a thing of the past. Even a casual observation reveals a country keen to take its rightful place in wider European society. In 2011, following the country's placement on the White Schengen List, Serbians were finally allowed visa-free travel inside the EU bloc. For the first time in decades – since they were all 'Yugoslavs' in fact – Serbians were able to freely travel to the countries that surrounded them. The year 2012 brought further progress when the country was awarded full EU candidate status. Things are definitely looking up for Serbia these days, so don't delay: get there as soon as you can.
Author's story
I first passed through the country that now calls itself Serbia back in the 1970s when it was still part of Tito's Yugoslavia. I was hitchhiking to India, so although the country seemed interesting, I was determined to push on eastwards without stopping for long. A decade later, a tourist boom started to bring hundreds of thousands of sun-seekers to Yugoslavia's Adriatic shores but I missed out on this too.
Before I knew it, Tito had died and dreadful events were starting to unravel in the region. I watched the television news horrified as the Balkans imploded in savage civil war and the Yugoslav federation fragmented and fell apart in bloody chaos.
When peace finally came I was curious to see what remained, so I travelled around the region visiting each of the six countries that used to comprise Yugoslavia. It soon became clear that although there was a renewed interest in newly independent states like Croatia and Slovenia, Serbia still remained well off the radar for most travellers. It was plagued with a wholly negative image, a legacy of the 1990s wars that was hard to shake. My personal experience did not tally with this, as I knew that most of its citizens were a far cry from the villainous war criminals they were often portrayed as. At that time there was little travel advice available other than antiquated guides to Yugoslavia that were written in the 1980s. It was time, I thought, that someone addressed this matter.
The Serbs I met when I was researching the guidebook generally provided one of two reactions: most were delighted that I was taking an interest in putting them back on the map; a few thought I was completely mad. I will leave it up to you to make up your own mind.