January
Christmas in Serbia
The Serbian Orthodox Church celebrates Christmas two weeks later than in Western Europe and so Christmas Day comes after New Year, on 7 January.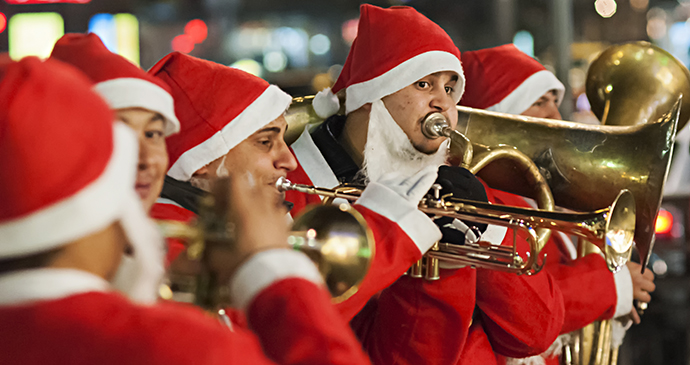 Trumpeters bringing festive spirit to downtown Belgrade © Zeljko Sinobad, Shutterstock
February
The Big Screen comes to Belgrade
From the last weekend in February to the first week in March, the Serbian capital is host to FEST – International Film Festival, a showcase for the latest releases in world cinema.
March
Strumming in the Serbian capital
Belgrade hosts the Guitar Arts Festival in March, which features a wide range of international soloists and ensembles.
April
Springtime music in Novi Sad
The Music Youth of Novi Sad festival featuring Serbian and international artists and ensembles takes place at a variety of city venues at the end of April. Mostly classical, there are usually also a few jazz and folk performances.
May
A night at the museum
On Museum Night in the middle of May, museums and galleries all over Serbia are presented to the public in different and unusual ways, with performances, concerts and thematic exhibitions staged outside of usual visiting hours.
June
Spinning wheels on a Serbian tour
Established back in 1939, June is the month that the Tour de Serbia international cycling race takes place in the country.
The annual Tour de Serbia inspires amateurs too © B. Jovanovic, Archive National Tourism Organisation Serbia
July
Summer arts in Belgrade
This multimedia festival, known as BELEF, which incorporates theatre, music and painting, takes place at various open-air venues and alternative city spaces in the capital.
August
Nisville
Guča is not the only place to hear music in August. In the same month, Niš is host to the Nisville Jazz Festival, which takes place within the city's Ottoman fortress complex.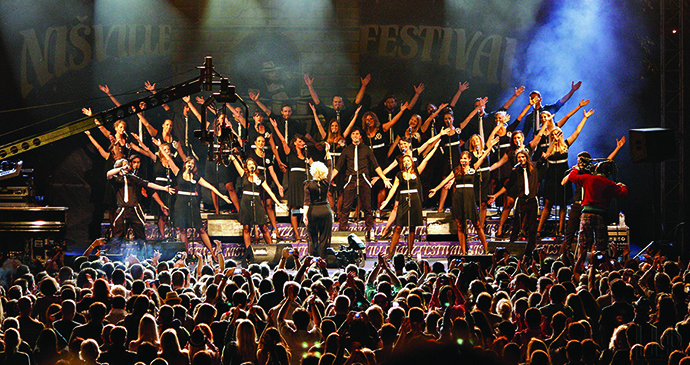 Putting on a performance at the Nisville festival © Tourism Organisation of Niš
September
Novi Sad is Cinema City
With 14 film categories and up to 150 national and international films, Serbia's second city attracts up to 80,000 visitors for its annual Cinema City festival.
October
Vojvodina mammoth
Around the second Saturday of September, Mamutfest takes place at Kikinda's town museum to coincide with the date of the date of the discovery of the most complete steppe mammoth skeleton ever at a local brickworks in 1996.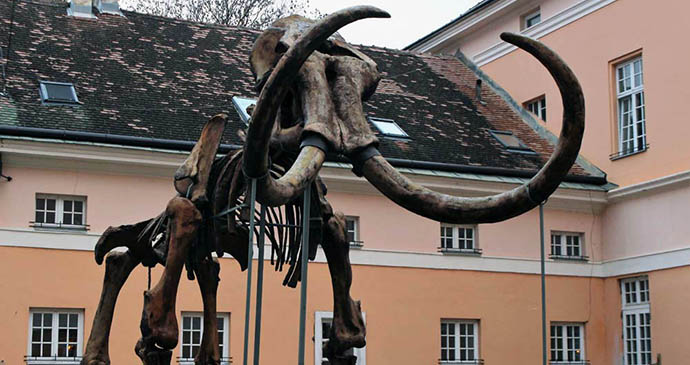 The most famous resident of Kikinda's town museum © Laurence Mitchell
November
Fashionable Belgrade
In late October and early November, Belgrade Fashion Week is an opportunity for Serbian designers to show off their latest styles and creations at several locations around the city.
December
New Year's Eve in Belgrade
New Year's is a major event in Belgrade with free concerts in the city squares and thousands of visitors from all over Europe coming to the city to take part in the fun.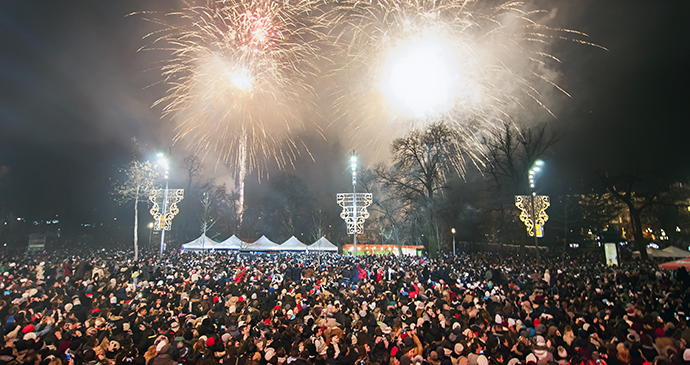 New Year's Eve celebrations in downtown Belgrade © Zeljko Sinobad