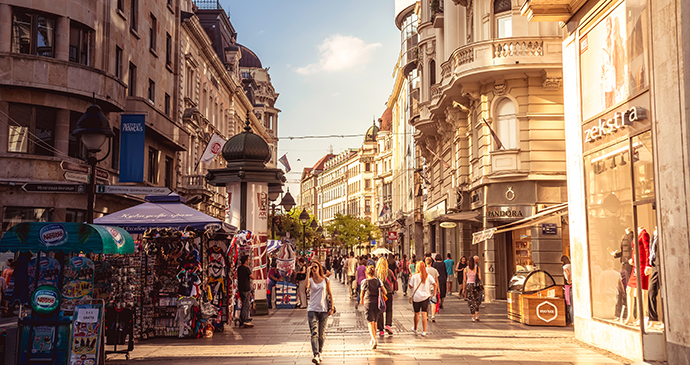 Knez Mihailova is Belgrade's main pedestrian and shopping street and is a perfect promenade on warm evenings © Kiril Makarov, Shutterstock
To those in the know, Belgrade is party city; a calm, dignified party that shows style, finesse and an undeniable joie de vivre.
The first thing anyone will tell you about Serbia's capital is that it does not live up to its name – Belgrade, or Beograd (the 'White City'), is anything but white. Rather, it is mostly a utilitarian grey, the colour of concrete, which looks its dreary worst under a leaden, winter sky and only marginally more cheerful in spring sunshine. This stereotypical Eastern-bloc greyness is deceptive though, because although the grim monoliths of New Belgrade's high-rises and the Roma shanty town that clings haphazardly alongside the railway tracks do their best to dispirit the first-time visitor, the city has far more to offer than these initial impressions might suggest.
For a start, there is Belgrade Fortress perched high above the town, overlooking the confluence of the Sava and Danube rivers. The 18th-century fortress is impressive enough but it is Kalemegdan Park, the ample green space of parkland and gardens that surrounds the fortress, which holds most year-round appeal for Belgrade's citizens. The view from Kalemegdan Park gives a clue to the way the city's history has unfolded by virtue of its geographical position. Belgrade's singular geography has been both a blessing and a curse; its strategic vantage point at the confluence of two great rivers and its position as a sort of crossroads between northern and southern Europe have led to it being attacked, sacked, plundered and bombed numerous times during its long history – at least 20 times in fact. The city lies at a political and cultural tectonic boundary, at a point where, historically, civilisations, cultures and religions have collided and clashed for over a millennium with furious upheavals: Christianity and Islam; Austro-Hungarians and Turks; the Catholic and Orthodox schism; the westward-looking Croats and eastward-facing Serbs; communism and free markets. Even today, Belgraders who live in Novi Beograd (New Belgrade) or Zemun joke about some fellow citizens across the water being 'Turks', as if the city is still divided by some invisible cultural fault line.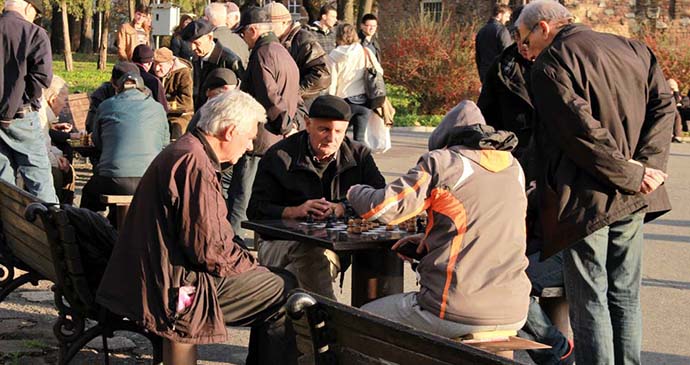 If you enjoy a game of chess, you can always find somebody to play against at Kalemegdan © Laurence Mitchell
Nudging the park to the south and east is Stari Grad, the Old City, with its cathedral, secessionist buildings and a few, and now sadly rare, Ottoman remnants. Running through the elegant streets that lead down to the city's more prosaic commercial centre is pedestrianised Knez Mihailova (alternatively called Kneza Mihaila) – a constant stream of humanity, particularly in the evening when Belgrade's younger citizens take their place in the Balkan equivalent of the korso, the southeast European evening promenade.
Such is the cosy and intimate scale of this older part of Belgrade that it is only when you reach the splendid Art Nouveau edifice of the Hotel Moscow on busy, traffic-laden Terazije at the bottom end of Knez Mihailova, having passed Trg Republike (Republic Square) and Studentski trg (Students' Square) along the way, are you reminded that you are in a large capital city; a city that has, perhaps inevitably given its recent history, become a little battered and careworn in places. However, those expecting to find a bomb-damaged, war-ravaged city on its uppers may be disappointed – despite the extensive damage done by the NATO bombing of 1999, little physical evidence remains of this today. Similarly, the mood on the streets is upbeat. To those in the know, Belgrade is party city; a calm, dignified party that shows style, finesse and an undeniable joie de vivre.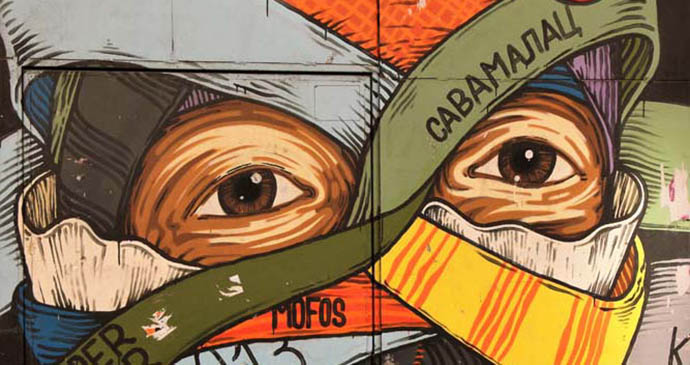 Street art in Savamala © Laurence Mitchell
In recent years Belgrade has shifted considerably from its stereotyped image of Eastern-bloc greyness. Proposed new developments along the waterfront in Savamala, still in the planning stage at the time of writing, look set to show a far more modern and dynamic face of the city to the world. With new ultra-modern high-rise buildings and dramatical redevelopment, Belgrade should certainly look very different when seen from confluence of the Sava and Danube rivers in a few years time. How such a project will influence developments in the rest of the city remains to be seen. What is certain is that – whatever happens – the city's soul should remain intact. Nevertheless, some might argue that it is the juxtaposition of a unique natural setting coupled with the thick patina of history that is displayed in the well-worn and occasionally down-at-heel face that Belgrade shows to the world are precisely that which give the city its unique character.