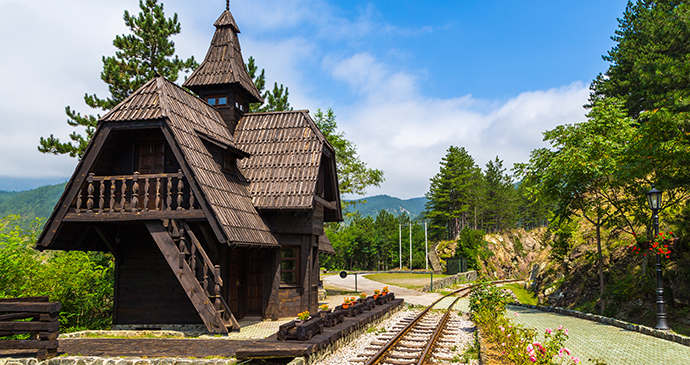 Jatape's wooden station is in perfect keeping with the throwback feel of the Šargan Eight © Tomasz Wozniak, Shutterstock
Since its inauguration as a tourist line, the Šargan Eight has become a rare success story in troubled times.
In a former life, the short stretch of convoluted track that is now called the 'Šargan Eight' used to just be one small section of the narrow-gauge line that connected Belgrade with the Bosnian capital, Sarajevo. The train was a lifeline for many communities that had previously been poorly connected and, until its closure in 1974, the Ćira train used to link the isolated villages in this part of western Serbia with the outside world.
The difficult, mountainous terrain of western Serbia ensured that it was a spectacular journey through steep cuttings and rocky gorges. Some sections were more problematic than others, however; in particular, the short section between Mokra Gora and Šargan-Vitasi. Although the horizontal distance between these two stations was a mere 3.5km, the height diff erence between them was a daunting 300m. Clearly, no ordinary train could cope with an incline this steep. The engineers came up with an ingenious solution to the problem and designed a loop in the shape of a number eight to connect the two stations. The loop – soon to be known as the Šargan Eight – was about 13.5km long and included 22 tunnels and ten bridges and viaducts along its length.
After 50 years of successful service, the Ćira line was declared to be unprofitable and the decision was made to close it down; the last train ran on 28 February 1974. Around 25 years passed by until fresh ideas of reopening the railway started to emerge, this time as a tourist route. During 1997 and 1998, villagers from around Mokra Gora organised voluntary work brigades to make the course of the railway passable once more. The route was finally cleared during the months of the NATO bombing in 1999, with the additional help of the Serbian army. Narrow 760mm-gauge track was laid along an 8km length of the line, a committee was formed to take charge of the railway's revitalisation, and professional assistance of the Želnid Railway Museum was sought. The emphasis was on authenticity: stations at Mokra Gora, Jatare and Šargan were reconstructed exactly as they had been in 1925 when the line was first opened.
Two museum trains – Škoda and Elza – were overhauled and put into service, and authentic wooden passenger coaches were repaired and refurbished. Since its inauguration as a tourist line, the Šargan Eight has become a rare success story in troubled times. It has even captured the interest of film-maker, Emir Kusturica, who used the railway as the setting for his 2004 movie Život je čudo (Life is a Miracle) and built a film-set village on a hill above Mokra Gora.