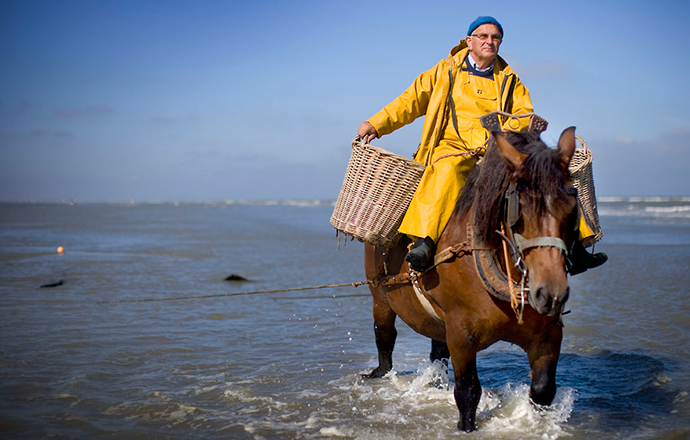 Shrimp fishermen are an icon of Oostduinkerke © Toerisme Oostduinkerke, Visit Flanders
Watch the world's last horseback fishermen in action at this charming seaside town.
Quaint and quiet Oostduinkerke is famous for its paardenvissers (horse fishermen), who trawl the shallows at low tide fishing for the grey North Sea shrimp used in dishes like tomates-crevettes. Today, despite numbers dwindling to three fishermen in living memory, and despite global warming bringing unwanted jellyfish and other catch close to the shore, Oostduinkerke is the only place in the world where the tradition lives on, hence UNESCO designating it as intangible cultural heritage in 2013. From spring to autumn, ruddy-cheeked, bearded fishermen (and, nowadays, one or two beardless fisherwomen) wearing yellow oilskins and sou'westers ride hefty Brabander horses up to their chests into the muddy North Sea. For 2 to 3 hours they wade up and down the beach pulling nets behind them and occasionally coming ashore to empty their catch into the wicker baskets slung either side of their saddles.